I love this track because…..
Music sets all of us off in different ways, we love things for different reasons, and sometimes we cant quite work out why or how….but if a few different notes and instruments makes us feel something, there must be something in the way a certain track is put together which touches us beyond thought. I did a bit of research to find out kind of music got to the core of various members of the salsa community…
They are all so varied and individual – you'll be able to relate to at least one, so read on…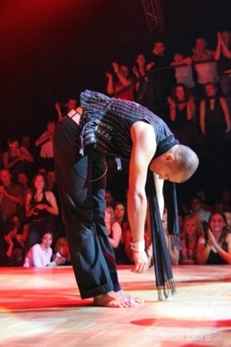 Tamambo, Instructor, Performer, Choreographer
The track that means the most to me is "Sofrito" by the Fania All Stars. I performed to this track as a solo artist at the UK Salsa Congress in 2006
When I hear the song it takes me to a different place. In terms of the music it brings a lot of sadness into my life; it touches a part of me that feels concern about the world and where it's going. I have roots in Iraq – I'm not a politician, and I'm not an activist and wouldn't know how to fight what's going on in the world. Everyone says it's terrible, but going out and demonstrating – does it actually do anything? I felt helpless until I discovered I could use the gift of dance to express my feelings.
The other part of the choreography talks about a love/hate relationship where there is a lot of love but also a lot of confusion and indecisiveness.
The song for me brings out emotions about all that is bad in the world – salsa is not all about the fun thing. The perspective of salsa to the outside world is that it's all about acrobatics and nice choreography, whereas it is also being taken to a different level where you can express emotions. It's become an art form.
This song brings out a lot of emotions – anger and sadness. The song makes me want to hide and the only hiding place when it's on is performing it on stage. There is a curtain between me and the audience – I lose myself in the music and am completely unaware of my environment and other people and I dance like there's no-one watching.
DJ Julian the Duke
My favourite salsa artists are Oscar de Leon, Tito Puente and Gran Combo de Puerto Rico. I particularly love Oscar de Leon because of his longevity and the energy he brings to all his music, both recorded and live on stage.
Sue, Salsa Dancer
My favourite salsa track at the moment is No Te Vayas Ramon by Grupo Latino Vibe, from the CD of the same name. Why? Because it reminds me of a salsa holiday last October, dancing on an open air dance floor in the hotel gardens, and warm sushine, not to mention a few glasses of sangria and new friends to dance with!
Yolande Lewis, Co-Founder, Salsa Chillout
I love "Use Me" by Alex Wilson, from the R & B Latino CD. There are so many different instruments within the track, that I find it really motivates me to dance. The song is vibrant, yet romantic and jazzy and bluesy at the same time, so you can change your mood to mould into the music throughout the dance. Because the music is so sensual, you can really accentuate your body movements, and dance slowly with a lot of expression.
Terry Lewis, Co-Founder, Salsa Chillout
My favourite track is Aint Nobody by Alex Wilson. I have been a fan of Alex's for more years than I can remember. I first came across him whilst guest dj-ing at Bar Med for Siempre Salsa. A reporter friend came up to me and said, "Play track three on this CD, you'll love it." I took a chance and spun it without pre-listening on my headphones. It filled the floor and I bought the album at the next possible opportunity. The album was called R & B Latino and the track I played was named after the title. I first heard Alex's latest track at the 2006 UK Congress. DJ Lubi was on the decks, I heard the track and immediately went over to ask what it was, to discover three other DJ's asking the same question! "Aint Nobody" is now part of my core set, and I have no doubt that it will go on to fill dance floors up and down the UK!
Sharon Asquith, Salsa Teacher
One of my favourite tracks (of which I have many, and know the name of very, very few) is "Chan Chan" by the Buena Vista Social Club.
Having danced Latin American and Ballroom from the age of five, I always loved partner dancing, but it can be difficult to carry on with ballroom as you usually need a partner to attend classes with. I then did tap for quite a few years where I met my dear friend and very reliable gym buddy, Chris. It was at the gym that they introduced salsa classes, which we attended regularly without fail, despite the fact there were never any men, and with our previous dance experience we often had to take the lead. Nevertheless, we were hooked!! However, these lessons were in fact Columbian salsa, still excellent when done well, but the problem we found was that any club we ventured to never seemed to have anyone dancing Colombian Salsa (except one club in London we went to with our teacher which wasn't really our kind of thing….).
As you can imagine, having found this new and exciting dance we were becoming quite frustrated: we knew there must be more to it!!!
Then, joy oh joy, we were given a flyer for Salsa Chillout, and as we were about to set off on a salsa holiday to Barcelona, we decided we must go and see what this L.A. Style was and learn it real quick!!
As soon as we walked through the door we knew we'd found it! Excellent classes, and no more dancing as a man once you'd got through beginners. And there it was – first track, "Chan Chan"
Terry and Yolande used to play it often for a teaching track as its steady pace usually makes all your choreography work well. They also played it in Barcelona, so it pretty much always reminds me of finding Salsa Chillout and the beginning of my new addiction!
Sue Anderson, Salsa Dancer
My favourite track is "Boogie 2Nite" because it has a really strong, steady beat which makes it really lovely to dance to.
Ben Chai, Writer, broadcaster and Salsa Teacher
I have a number of favourites depending on the situation…..For example, I really enjoy teaching to "Yo Sin Ti" (the Eros Ramazotti version) or "Havana City" as they have really strong beats for the students and just convey a sense of fun. Depending on how energetic I feel,I like some of the jazzy salsa numbers such as "Favourite Things" or "Pink panther" because of all the hits and pauses and so you can have more fun dancing with them. If I'm feeling dramatic – then song like "Show Me". And if i'm up for a nice romantic salsa dance – something like "Fragile" or "Un Monton De Estrellas". The other thing is after a while or when you hear other tracks your favourites change and you get new favourites.
Ian Platt, Salsa Teacher
At the moment I'm enjoying quicker tempo stuff, so I love Ave Maria Escocia by Salsa Celtica. It starts with a really good strong clave, and just really builds up to a very complex song with lots of depth and rhythm changes to keep you on your toes. Because of all the nuances its more of a challenge to dance to, and you really have to think about the music. You have to find the right person to dance with , but when it goes well its fantastic!
Jean-Charles, Salsa Dancer
Here is the title of my current favourite title "A La Hora Que Me IIamen Voy" of Jose Alberto El Canario. I find this track so full of rhythms and energy building up through the song. Like all the "traditional" tracks, it is rich in sounds from various instruments which I could not begin to name, voices talking and cheering in the background. I can picture a whole orchestra on the stage with the voice of the sing leader so infectious. There is a strong, and perhaps deceptive, sense that the tune is almost coming together out of improvisation. And yet, whilst I cannot understand a word of what is said, I can sense a meaning to it all. Like most of the best tracks to dance to, it tells a story and invites you and your dancing partner to join in. I could at least identify four different sections (stories!) in the tune and, with more years into salsa, I believe that I will be able to discover many more. Hence, there is a saying that the more skills you gain in salsa and the more your ability to express your emotions on the dance floor. The richness of this track reminds me that the same skills should also enable one to better listen to and be seduced by the many stories that lie within a single tune. I guess that thought could also apply to how one relates to their dancing partner if only for the matter of a song…
Salsa Chick, Nikki Parker's Top Ten (at the moment….)
(From Salsa Hick, to Salsa chick, to Salsa Teacher…..)
Contigo
No Te Vayas Ramon by Grupo Latin Vibe
Chin Chon Chow – by Louis Ramirez
La Malanga – Merc Adonegro
Mas Que Nada – The Black Eyed Peas
That's Just the Way – Eric Benet
Hypnotic – Craig David
La Pantera Mambo – La33
La Salsa Nunca se Ocaba – Susie Hansen
Rock My world – Michael Jackson
And I still love the birthday song, "Tu Cumpleanos" by Willy Chirino
As to why Contigo continues to be my favourite – I cant really say, except no matter how many times I play it, I still love it!
Well, that's what they love, but what about you, and why? I know what i enjoy dancing to, but i always forget to ask the dj the names of the songs – i'm too busy dancing to the next track!!
Tim Pop com Birdland by Los Van Van is one of my absolute favourites – it really expresses how I feel
when I'm dancing to it, kind of…wahay……whoooo, you know….
And there is another one I adore, but I don't know what it is, so many apologies to Terry and Yolande
who very patiently listened to me going, "It goes like this….na na na na, na na na na, na na na na na naaa….", and did try to help me identify it..any ideas….?