It took me 8 years from starting to write The House That Alice Built to getting it published. The support of people who encouraged me to carry on was very important, and my friend and colleague, BBC Essex presenter, Tony Fisher was one of those . He read my first draft and gave me feedback on every chapter! He also interviews authors all the time on his radio show and reads books constantly. And now he's working on his novel, too (as well as just being awarded an Honorary Doctorate by the University of Essex for his services to broadcasting and is now a chair on the 2020 Essex Book Festival). Over to you, Tony!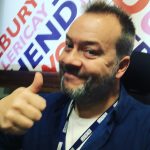 For as long as can remember I always wanted to be a writer. I was demolishing books from an early age switching from Paddington to P.G. Woodhouse as young as eight, but I always believed that to be an author you had to find some magical fairy dust to sprinkle on the keyboard or be born with an extra compartment lodged in the cerebral cortex to complete a novel, let alone get published.
My first love was radio and as soon as I left school I got a job on my local commercial station which led to many presentation and production roles all over the country.
Now 33 years later I still sit in a padded room everyday talking to the region on BBC Essex but I've recently been published for the very first time in Ellery Queen Mystery Magazine. My short story 'Tingo' appeared in the July/Aug edition.
During my time interviewing authors I began to notice they were all human, no sign of fairy dust or a slanting head from the weight of an extra brain. As talented and creative as they all are, they have one thing in common. They write all the time, they are disciplined and most importantly they finish.
I took their advice and have started writing every day, getting up two hours before the kids so I can do my word count or work on the next draft and still take them to school and then do the day job.
I'm on the second draft of my third completed novel and I hope this will be the first one I feel ready to send to publishers, editors and agents.
Most importantly I love the process, whatever happens in the future I know two things, I can finish and it's fun.
About Tony Fisher
Tony Fisher started working in radio as soon as he left school in 1984, after spending his formative years doing pretend broadcasts from his bedroom.
Thirty five years later and a realm of broadcasting jobs as presenter, producer and management roles right across the UK, his current home is weekdays afternoon between 12 and 4 on BBC Essex where he presents and produces an arts and entertainment based show.
In his time behind the mic he's interviewed hundreds of writers and it was that contact and a voracious appetite for books: somewhere close to twelve a month, that his desire to put pen to paper grew.
He's written dozens of short stories, one recently published in the prestigious Ellery Queen Mystery Magazine, and is now in the third draft of a new novel.
He recently was awarded an honorary doctorate from the University of Essex for services to broadcasting and is a chair on the 2020 Essex Book festival as well as hosting the Pride of Essex Awards every year at Anglia Ruskin University.
With two young children and a four hour radio show to produce his writing time is when everyone else is in bed.
When he's not talking in a padded room, he's writing in one.