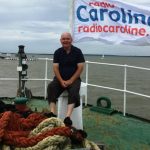 I love talking to my friends about books, and in this episode of my imaginatively titled – The Talking to My Friends About Books Podcast, I chat to Sony Award winning radio presenter and writer, Ray Clark about his new book which will be published in June – Stay Tuned – I Could Say Something Brilliant at Any Moment! 
Just click on the link to listen
podcasters.spotify.com/…-e206p7i/a-a58kov
About the book and Ray Clark
STAY TUNED – I could say something brilliant at any moment! Ray Clark
What a 'fab' time to grow up. The 1960's and 1970's were decades overflowing with the most exciting music and more and more radio to hear it on. Hooked on 'the wireless' before he was even a teenager, Ray Clark's carefree childhood ambition was to one day just play records on the radio. Packed full of vivid memories and entertaining stories, Ray's biography, Stay Tuned, sees him navigate a long and happy journey to make his broadcasting dream come true. After climbing aboard the legendary Radio Caroline, a successful, award-winning career in commercial and BBC radio followed, presenting prestigious breakfast shows on pirate, BBC, commercial, community and American radio. With tens of thousands of hours of radio shows over four decades behind the microphone, and award-winning documentaries to his name, Ray has interviewed hundreds of household names – another terrific source of anecdotes for this book.
Ray Clark can still be heard every week worldwide on Radio Caroline, BBC Radio Kent, Suffolk, Norfolk and BBC Essex in the UK, and regularly on KDKA Pittsburgh and other American radio stations. Away from the studio, he has written two books: Radio Caroline – The True Story of the Boat That Rocked and The Great British Woodstock – The Incredible story of the Weeley Festival 1971. He lives in Burnham on Crouch with his wife Shelley and has lost not one jot of enthusiasm for his childhood dream of 'playing records on the radio'. "…a wonderful memory of my afternoon with the Bee Gees. "Do you take sugar in your tea Ray?" asked Barry Gibb, as he filled the delicate china cup in the small serving area of their plush suite." "I don't know if Sir George Martin was aware of what I'd done – he didn't say, and I wasn't about to tell one of the world's best music producers that I'd forgotten to turn the tape recorder on!" To pre-order a copy of Ray's book, signed and dedicated by the author, please email poppublishing@gmail.com for further info Publication date 1st June 2023 Price £11.99