I love chatting to my friends about what we've been reading and getting recommendations for new books to try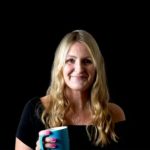 In this edition of the Talking to my friends about Books Podcast, myself and author Lizzie Chantree discuss our love for romantic fiction, Marian Keyes and how we feel about hammocks. Plus we talk about her most recent novel, The Little Ice Cream Shop by the Sea and her upcoming release, Shh….It's Our Secret.
Click here to listen
soundcloud.com/…499939452/lizzie-chantree
International bestselling author and award-winning inventor, Lizzie Chantree, started her own business at the age of 18 and became one of Fair Play London and The Patent Office's British Female Inventors of the Year in 2000. She discovered her love of writing fiction when her children were little and now works as a business mentor and runs a popular networking hour on social media, where creatives can support to each other. She writes books full of friendship and laughter, that are about women with unusual and adventurous businesses, who are far stronger than they realise. She lives with her family on the coast in Essex. Visit her website at www.lizziechantree.com or follow her on Twitter @Lizzie_Chantree https://twitter.com/Lizzie_Chantree.