I love talking to my friends about books, so I've got an occasional podcast called Talking to My Friends About Books because I'm really good at titles….ha ha!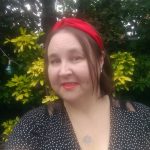 Julie Howarth had her first novel, Always By Your Side, published in August and the audiobook has now come out too, so we had a chat about that, writing and taking a leap of faith to unexpectedly make your dream come true.
https://d3ctxlq1ktw2nl.cloudfront.net/staging/2022-9-27/293411240-44100-2-dbbbe3b0713e9.m4a
Always By Your Side
About the book
When school teacher Rose loses her dream job at a London primary school, her self-confidence takes a knock. Worse still, her stockbroker fiancé, Ollie, sees it as the perfect opportunity for her to join his firm, which only adds to the feelings Rose has that their relationship might be coming to an end.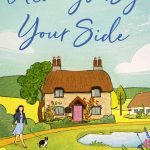 unexpected phone call, and an elderly aunt who's taken a fall, means Rose must drop everything – including Ollie – and return to Blossom Heath, the Sussex village she grew up in.   With no job to rush home to, Rose decides to stay in Blossom Heath for the Summer, trading London for the idyllic countryside. Here Rose finds herself reconnecting to the village life of her childhood in more ways than one, including falling head-over-heels for local farmer, Jake.   So when her London life comes calling, Rose is faced with an impossible choice… to return to the high-pressure life of her past, or embrace the joy of a new life in the country.
  An
About Julie Howarth
Julie Haworth writes uplifting stories about friendship and community, bursting with romance and charm, from her home in the bustling city of Chelmsford, Essex. Her debut novel, Always By Your Side, was published by Simon & Schuster in August 2022 as an e-book and the audiobook was released in October 2022. The paperback will be published in the summer of 2023. Julie is still pinching herself that she's realised her lifelong dream of becoming a published author! When she's not busy writing or running her copywriting business, Julie can mainly be found shopping, drinking ridiculous amounts of coffee and hanging out with her two rescue cats. Julie is also a member of the Romantic Novelists' Association and the Society of Authors
You can follow Julie on Instagram and Twitter: @juliehowarthauthor
You can buy the books via all major platforms including https://www.amazon.co.uk/Always-Your-Side-uplifting-friendship-ebook/dp/B09HZ3PFN4