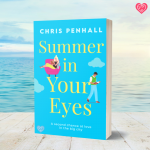 I love music and have it on in the background when I'm writing – that's if I'm not out in a coffee shop enjoying the 'coffee shop ambient noise' which also helps me to put words on paper.
In my novels, I often use music to punctuate some of the scenes, just was it does in our day to day lives. And in Summer in Your Eyes, it was a crucial part of the action for many reasons. One of which was that the parents of my main character, Holly Merriweather,  are fans of 80s music and enjoy going off to 80's weekenders, another of which is that one of the other characters, Caleb, owns a record shop in a street close to where Holly lives, and there are other reasons too, but I don't want to give away the plot.
Holly is also something of a film buff, and I've included some  songs from a few of the films she likes.
So, I've added a playlist to Spotify of some of the songs that I mention in the book, or were the soundtrack to my writing of it. And here they are….
Bright Side of the Road – Van Morrison
Dance the Night – Dua Lipa
Daylight – Harry Styles
Do Anything You Wanna Do – Eddie & The Hot Rods
Don't Turn Around – Aswad
Do You Really Want to Hurt Me – Culture Club
Heaven – Niall Horan
How Can You Mend a Broken Heart – Al Green
I'm Every Woman – Chaka Khan
London is the Place For Me – D-Lime Tobago Crusoe
The Relfex – Duran Duran
Seven Seas – Echo and The Bunnymen
Waterloo Sunset – The Kinks