As the nights are drawing in, many of us are thinking ahead to Christmas, so if you're looking for a book to cosy up with on cold winter evenings, A Countdown to Christmas
Thanks very much for welcoming me to your blog to celebrate the launch of Mistletoe and Mayhem and the Little Shopping Mall.
The book starts in October, with a series of (mis?)adventures in the run up to Christmas, so it's perfect that it was released on the 30th September! Readers can hopefully join Caroline and Damian as they celebrate Halloween and Bonfire night and hope to uncover just what is really going on at Holly Walk Mall in time for the big day.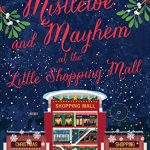 About Mistletoe and Mayhem at the Little Shopping `Mall
Countdown to Christmas with mistletoe, mayhem, meddling friends and mystery men …
There's a saying about all work and no play – but there's never a dull moment for Caroline working at Holly Walk Mall, especially at Christmas. When she's not dealing with orders from Ian, 'the manager who can't manage' as her friend Rachel puts it, she's overseeing the usual late-night shopping sessions, Santa's grotto construction and, most importantly, the sampling of many delicious festive treats at the Italian café her friends Nina and Marco own.
But when a new jewellery shop moves in and brings 'mysterious guy with the cute bottom' to Holly Walk, Caro isn't yet aware just how much mayhem she's in for in the countdown to Christmas. With strategically placed mistletoe, revealing cowboy outfits and even a bit of sleuthing, could this festive season turn out to be the liveliest yet for both Caro and her beloved Mall?
Extract:
I opened the wrought iron gates and used my new key to release the shutters behind them. I'd booked our cleaners to do an extra shift and they'd arrive shortly to help tackle the debris from the night before. First though, Marco had agreed that just this once I was allowed to help myself to a fancy coffee. He must have been in a good mood the night before. Either they'd made a killing or he'd helped himself to too much sangria.
I was debating the choices, whether to go for a creamy cappuccino or the intense hit of an espresso to wake me up, when I heard the gates rattle again. I turned, expecting to see Maureen with her mop bucket, but instead Christopher was waiting for me to open them, carrying a large briefcase.
'Any chance of an early start?' he asked.
I sighed. 'Christopher, I've told you before, you're not allowed in until eight o'clock. I've got a lot of clearing up to do. I can't have the gates open unsupervised yet.'
'It won't take me long,' he said, showing me his case. He tried to offer a placating smile, but it was more creepy than endearing. 'Just a few bits to unload. I don't want to leave these not locked up safely.'
It was tempting to let him in just to keep the peace, but if I gave in every time he tried to break the rules I'd have no chance of ever upholding them again in future. 'No, I'm afraid
not. Not today. I can lock the case in my office until opening time if you like but that's the best I can offer.'
His face dropped and he looked like he was about to snarl, before he thought better of it. 'I'll be back at eight. Mind you're ready to let me in then, and I'll be having a word with your boss about this.'
'So will I,' I called back, but he was already getting back into his car. As he drove off, I realised that he'd been parked on a double yellow line. I muttered to myself. 'Maybe I should have let the bugger in – he might have got a ticket.'
The morning passed quickly, in a blur of sweeping up and packing away the Halloween decorations. There were hundreds of messages on our social media about Cute Cowboy from the night before, but it seemed wise not to reply to them. I didn't want Damian to feel uncomfortable that we were focusing on his image too intently. Though I may have checked the posts a few times, just to keep an eye on what was being written. It was purely professional to do so. Well, partly professional.
Ian turned up just before lunch. He did not look happy. 'I take it you've seen Christopher,' I said. It was annoying not to get a chance to explain my side of the story first, particularly as I doubted he'd listen to me now he'd evidently made his mind up.
'Yes. How hard would it have been to let him in a few minutes early? He says you were extremely unpleasant towards him.'
'I abided by the rules. If he did too, we wouldn't be having this discussion. I didn't have time to keep letting him in and out the gates. We had an incredibly successful evening yesterday and I needed to tidy up before we reopen today.'
'Yes, I've heard about the naked man that you plastered all over the internet. Hardly the look we're going for.'
'He wasn't nude. He was in costume. Have you even talked to any of the shopkeepers about yesterday? They've been very nervous about the rent increases. Last night was an important source of income for them. I think you'll find that they seem a lot happier today.'
He huffed, so I decided the best thing to do was to walk away before I totally lost my temper. Thankfully my frosty mood melted once I reached the main concourse; Martha came out to greet me and told me that she had the best evening's takings that she had ever had.
Marco and Nonna wouldn't let me pay for my lunch, not that I could eat much as I'd been handed a box of cookies on my way to them. They promised to box up the leftovers so that I could have them for tea. Damian texted as I sat at the counter.
'Is that your cowboy?' Nina asked, trying to lean over my shoulder to see my phone.
'He's not mine. But yes. He wants to know how everyone is today.'
'Much better, thanks to him. I think we'll be okay for whatever bills Ian charges us this month. We've not stopped even this morning, with people coming in hoping to see the cute cowboy again.'
Marco set a cup down on the counter for the customer behind me. It clattered so hard that coffee spilled over the rim and I grabbed a napkin to catch it before it dripped on the floor.
'Don't mind him,' Nina said. 'He's jealous.'
'Pah,' Marco scoffed. 'I had bigger muscles than that in my day.'
Nina squeezed his arm. 'You did, mi amore, but sadly your day was forty years ago.' She laughed and patted his cheek. He frowned until she walked past and squeezed his bottom. 'But I still fancy you.'
'That's all that matters.' He turned to me. 'I hope your cowboy loves you like this too. Your mama and papa, they loved each other. Never had eyes for anyone else. You deserve the same, cara. Now, here'—he passed me my takeaway bag—'I put some extra cookies in
so you can share them if you see him later. Tell him he's too skinny, these will put some flesh on his bones.'
'There was nothing wrong with him from the photo I saw,' the lady behind me said.
Further down the queue, there was a cough and I looked past her to spot Christopher. I wondered if he was going to take the chance to apologise for his earlier outburst or whether he wanted to have another go at me. Instead, he tipped his head to one side. 'Your cowboy, did I know him from somewhere?'
I shook my head. 'No, he's new.'
'I could have sworn he looked familiar.'
'You should be so lucky,' said the woman next to me.
I clutched my bag and dashed back to the office. I wanted to write to Damian to let him know that we were okay, but that perhaps next time we ought to lower his profile just in case.
Book buying links: https://www.amazon.co.uk/gp/product/B0B7S641TM/ref=dbs_a_def_rwt_hsch_vapi_tkin_p1_i1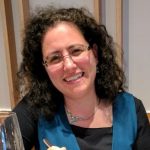 About Hannah Pearl
Hannah Pearl was born in East London. She is married with two children and now lives in Cambridge.
She has previously worked as a Criminology researcher, as a Development Worker with various charities and even pulled a few pints in her time.
In 2015 she was struck down by Labrynthitis, which left her feeling dizzy and virtually housebound. She has since been diagnosed with ME. Reading has allowed Hannah to escape from the reality of feeling ill. She read upwards of three hundred books during the first year of her illness. When her burgeoning eReader addiction grew to be too expensive, she decided to have a go at writing. In 2017 she won Simon and Schuster's Books and the City #heatseeker short story competition, in partnership with Heat magazine, for her short story The Last Good Day.
Find out more about Hannah here:
Twitter: @Hannahpearl_1 Blog: https://dizzygirlwrites.wordpress.com/