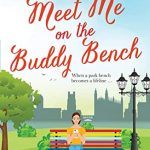 Tell us about the book
Meet me on the Buddy Bench is the story of Sam and Ava. They've both had a really tough time and it's all about how they have to rebuild their lives. It's not how they expected life to look for either of them, but it's all about how they can find ways to support each other and be happy despite the difficulties.
Ava is a teacher. She becomes ill, experiencing waves of dizziness and absolute exhaustion. She struggles with her sense of identity when so much has changed. Sam is a doctor. His wife passed away and he has become isolated, or would have if it weren't for his friend Alex who kept him going and then ensured that he saw a grief therapist. Now her job is at risk due to lack of funding and he finds himself volunteered to run a marathon to raise the money they need to keep her in post. It is on these runs that he sees Ava again on a bench and they get chatting, discovering that their friendship brings much needed comfort and company, and maybe even unexpected love.
I think it's very emotional, hopefully heartwarming but also with some humour.
 I love the idea behind this,  where did it come from?
I have ME, as does Ava in the book, and I wanted her to have some of the same symptoms that I did to take the opportunity to raise some awareness of the condition.  I wanted to find a balance between writing about the reality of having ME and the difficulties that this causes, but also to have love and friendship at its core, because reading romance books has been such a source of comfort and joy to me at the most difficult times with my health. I think it's heartwarming, despite the difficult subject matter, because sometimes, even when life isn't perfect, having people you love can make it memorable and worthwhile and worth fighting for anyway.
 How did you get the ideas for your previous books?
For Evie's Little Black Book, I'd read a few books where the main character got back in touch somehow with the one who got away, and I absolutely loved them! But, they did make me wonder, what if the one who got away wasn't the one after all? Though in my Daisy series, it turned out that he was after all!  With It's My Birthday, I wanted to write a main character who was closer to my age, and we both approached forty at a similar time.
 What comes first – the plot or the characters?
I'd say a bit of both. I often have the characters and a brief outline of the plot fairly early on, but I'd say that I know the characters more than I know the tiny details of the plot when I actually start writing usually.  I try to know where they're going to end up and roughly how they're going to get there, but I add a lot more detail as I go. Sometimes I feel like I know the characters so well I have a dozen scenes in my head that don't add much so I don't always actually write them, but they help me to understand motivations and interactions and what they need to overcome to be happy by the end of the book.
 How do you weave writing around your other commitments?
With difficulty! Because my ME limits my energy and concentration so much, I have long stretches of time where I don't write much, but I absolutely love it when I can write, especially if I have a good spell and can get so deeply embedded in my writing frequently so that I can pick it up more quickly at each session. I find that I can edit more efficiently than I can write because it takes me less concentration to get back into the scene. I miss it when I don't write more but it's sometimes good to have that time to work ideas out in my head before I start and to make lots of notes. Sometimes I've started a story, had to put it down for a while but when I've come back to it, it's been really satisfying to have a few thousand words down already and I come back to it fired up to add more.
 How did you feel when you got your first book published?
I couldn't believe that it was real. It felt like I'd been writing away quietly for so long, not really knowing how or if I'd ever get to share my stories that it was amazing to actually see the books published. I love how supportive the Choc Lit team are and I feel so lucky to be a part of that.
How do you feel now?
I still get nervous! This will be my first new book for a little while and it has been a really personal one to write, so I hope that people enjoy reading it as much as I enjoyed writing it.
 Do you have any tips for aspiring writers?
Enjoy yourself. Write when you can but be kind to yourself when you can't. Follow writers you like on social media (not in real life, that would be creepy 🙂 ) Follow publishers that you like. Try writing competitions. Have a thick skin. Rejections just mean that your book wasn't a good match for that publisher, it still might find it's true home somewhere yet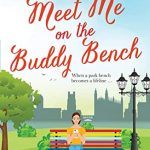 Meet me on the buddy bench 
When an ordinary park bench becomes a lifeline …
As a primary school teacher, Ava Lam is familiar with the 'buddy bench': a rainbow painted bench where sad or lonely children can sit to show they need a friend.
But are buddy benches just for kids? Ava might have assumed so – until she finds herself sobbing her heart out on a park bench and a kind stranger sits down next to her.
The stranger, Dr Sam Stone, has a house, an impressive job and he's even training for a marathon – all things that have become painfully out of reach for Ava in her new and scary circumstances. But whilst Sam appears to have everything figured out, it seems he needs a sympathetic ear just as much as she does.
Is the encounter a one-off, or could the 'buddy bench' begin to represent a source of comfort and support that will become precious to them both?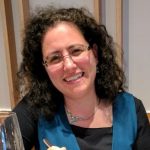 About Hannah Pearl
Hannah Pearl was born in East London. She is married with two children and now lives in Cambridge.
She has previously worked as a Criminology researcher, as a Development Worker with various charities and even pulled a few pints in her time.
In 2015 she was struck down by Labrynthitis, which left her feeling dizzy and virtually housebound. She has since been diagnosed with ME. Reading has allowed Hannah to escape from the reality of feeling ill. She read upwards of three hundred books during the first year of her illness. When her burgeoning eReader addiction grew to be too expensive, she decided to have a go at writing. In 2017 she won Simon and Schuster's Books and the City #heatseeker short story competition, in partnership with Heat magazine, for her short story The Last Good Day.
Links to buy:
https://www.amazon.co.uk/Meet-Me-Buddy-Bench-emotional-ebook/dp/B09SLYN3J4/ref=sr_1_2?crid=1EVHTO528O0R2&keywords=hannah+pearl&qid=1647163602&sprefix=hannah+pearl%2Caps%2C122&sr=8-2
https://www.kobo.com/gb/en/ebook/meet-me-on-the-buddy-bench
Follow Hannah Pearl on:
Twitter- @HannahPearl_1