When I wrote my debut novel, The House That Alice Built, I had no intention of embarking on a sequel. That was until I finally sent the book of to my publishers, with all of the edits done, and realised that I didn't want to say goodbye to Alice just yet.
So, I had to think of ways to continue her story and follow her fortunes in Portugal once she had dealt with the issues around her beloved home in London. And as part of that I decided to take a trip to Lisbon and Cascais, which is where the novels are set, and where I lived many years ago. I hadn't actually been back for 15 years, as I now visit Lagos in the Algarve a few times a year instead, but Cascais captured my heart when we had a home there, and it's never let go.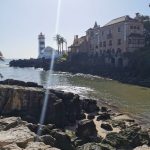 In the little boutique hotel I stayed at opposite Rossio Square in Lisbon, the information pack had a quote from Alice in Wonderland. What a co-incidence, I thought, given the name of my book, but thought nothing of it. Although I do remember the bit that said "For, you see, so many out-of-the-way things had happened lately, that Alice had begun to think that very few things indeed were really impossible."
When we set off for Cascais I was worried it wouldn't be the same. But, as soon as I got on the train at Cais de Sodre in Lisbon and headed west, all the memories came flooding back – we sped past Belem where we would amble around on lazy Sunday mornings and Carcavelos where my children went to school, then on through Estoril where we'd occasionally stop for morning coffees.
I almost jumped off the train in Cascais and virtually ran down the narrow cobbled streets to the square where a lot of the action in the books takes place, anxious in case it had changed beyond recognition. It wasn't exactly the same, but it hadn't changed very much, and most importantly it felt exactly the same. It was a sunny Sunday November morning so there were not a lot of people about in Largo Luis de Camoes, but all the tables were set up ready for the weekend customers.
I hadn't been for so many years that I didn't think I would know anyone there. But as I took photos of my old haunt, with its bright pink bougainvillea and whitewashed walls, I noticed someone waving at me from the other side of the square. He looked familiar…because he was! An old friend who ran a restaurant there had moved away and was now back. And he recognised me after all that time! So, we had a quick catch up on the last 15 years over a coffee before I headed off to explore the rest of the town, and when I came back, a busker was singing, and more people were dotted around the tables. As I sat down, I said to the waiter that I only wanted a drink rather than a meal, and he said…"What more do you want…music, wine, love……" And I realised that what I remembered and poured into the books was real and not simply a result of rose tinted spectacles looking back!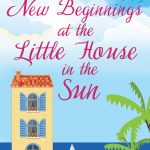 I like to think there's a bit of magic in the air in Cascais, and if you read The House That Alice Built and New Beginnings at the Little House in the Sun you may well agree. As Alice in Wonderland said, "..very few things indeed were really impossible."
New Beginnings at the Little House in the Sun is published by Ruby Fiction and available on e-book and audio from all major platforms