In The House That Alice Built, Alice visits Portugal and falls in love with it. She meets many people who have made their lives there and it changes the way she thinks about everything.
Rosemund and Patrick Bennett took a leap of faith and decided to move to the Algarve many years ago. I visit Rosie's boutique a lot when I'm in Lagos, and I asked her to write a few words about their Portugese adventure.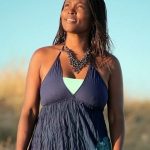 In May 2000, with our six month old firstborn son in his car seat, my husband Patrick and I moved by faith from London to Portugal to start our new business and life!! Our baby is nearly 20 years old now and in Lisbon studying Engineering!
We opened our doors by July 2000 – a warm welcoming boutique filled with beautiful clothing, accessories and home furnishings at the time..
We did not yet speak Portugese – we arrived with an eagerness to learn this Latin based language and get to know the Portuguese people.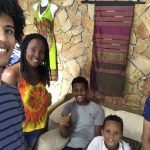 It has been a wonderful adventure filled with hard work that we love and spanning two decades in May 2020.  We now have three sons aged 20 , 16 and 9 years old.  Life is thankfully great, wonderful and graceful.
This lovely family business is thriving – it has grown each year and is focused on people and very service oriented.
We get to meet and touch so many lives annually – many returning every year over the years. We've become part of many, many people's lives, their weddings, parties, special occasions including even funerals.
All  by the Grace of God.  We simply love people and provide quality and uniquely beautiful clothing!
Find Kojo Boutique at 14, Rua Lancarote De Freitas, 8600-605 Lagos, Portugal 
Visit the Facebook page https://www.facebook.com/KojoBoutique/