We all love a bit of rock and roll, so the latest book from the very talented Berni Stevens really hits the mark! I invited her onto the blog to ask a few questions, not only about the book, but also how writing makes her feel. Plus, she shares a few tips for budding authors.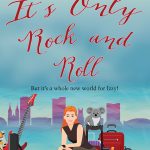 Tell us about the book
It's the next chapter (so to speak) in the lives of Seth and Izzy, who first appeared in Izzy's Christmas Star. I felt there was (and is) more to tell, and I really wanted to go on tour with the band! It's the longest period of time that Izzy has spent with Seth … Will the relationship work … or will everything go horribly wrong?
It features Izzy Grant and as you mentioned, she was in another of your books – tell us about her
In the first book Izzy is working hard for a degree in English, and earning a bit of extra money by teaching Zumba at the local gym. She's fun-loving and a little bit fiery. This book opens around her graduation, and she spends some time wondering whether Seth will be able to come back for it, because he's on tour on the other side of the world. (Strictly speaking he would never have been able to … but it's fiction!) He's divorced and wary of making a big commitment again, and she wonders whether he ever will.
Why did you decide on the rock and roll background for the novel?
Music has always been very important to me, and my husband was a drummer in a band when we first met at art college. We've always gone to as many concerts as possible, and of course, once I met him, I went to all of his  I do find the world of musicians fascinating, they really are a different breed. I've met a few famous musicians over the years too, and the nicest by far were Rod Stewart and the Faces. (I was fourteen!) Rod was just lovely and I fell a little bit in love with him! I got to present him with a portrait I'd done and he was so complimentary about it – which considering it was way before art college – was very sweet of him. I have a photograph which was taken for the Brighton and Hove Gazette, which records just how awful the portrait was! (And I look like a rabbit in headlights).
But I think music would always have popped up in a book at some point.
You're also a (fabulous!) book cover designer – have you designed your own book cover, and what do you think about when you are coming up with the ideas? 
Awww that's kind … thank you! Yes I did design my own cover. It's actually more difficult designing for myself because it's harder to be critical of the ideas. Sometimes it's difficult to  actually have any ideas, because I'm too close to it. Luckily the final decision isn't mine, and there are always a few people around to point out what's wrong with it!
Did you always want to write?
Yes always. As an only child, I spent every spare moment from an early age, either writing or drawing. (My son was the same). I thought I'd be the next Monica Dickens at one point (I was always horse mad too), and then I changed my allegiance to Agatha Christie …
It wasn't until I went to work for HarperCollins and met Monica Dickens's great, great, (not sure how many greats) niece, that I realised she was related to Charles Dickens! And of course, HarperCollins have always published Agatha Christie too. At one point, I was the only member of staff who'd read all of her books – and I was in the art department!
How does it feel when you first put pen to paper (or rather hands on keyboard?)
It depends on whether I have an idea in my head or not. If I do, then usually I can't wait to get going and start writing. It feels exciting and sometimes I have trouble stopping.
What does it feel like to send the book off after the final edits?
It's a divided feeling to be honest … jubilation (and relief) because it's finished and everyone's happy, and yet there's always a bit of reluctance to let it go. It's a bit like sending your child to nursery for the first time. Will anyone be horrible to your baby? Those kind of fears.
What are your tips for budding authors?
Read, read and then read some more. You can never read enough. Also, write all the time, jot down ideas, titles, anything that pops into your head. The more you write, the easier it becomes – well that's the theory. Listen (surreptitiously) to people. Dialogue is so important. Especially children's dialogue. It's difficult to be inside a child's head – but they really are genuinely funny. If a dialogue doesn't ring true in a book, it ruins the whole book for me.
What are you working on next?
I'm writing a Christmas story with some of the characters from Laughing All the Way. Some haven't fared too well since we left them, and they need a helping hand. And I really think Izzy might need help with her wedding … plus she hasn't even met the prospective in-laws yet, and they're none too impressed by that. (Bad Seth!)
It's Only Rock and Roll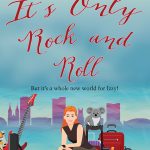 Is the rock and roll lifestyle all it's cracked up to be?
Being the girlfriend of a rock star isn't all glitz and glamour – at least that's what Izzy Grant has found since she started dating Seth Roberts of Scarlet Gryphon fame; it's actually a lot of waiting and wondering and worrying as Seth travels the world whilst she's stuck in London. Can she ever rely on Mr Cool to settle down?
But rock gods get insecure too, and whilst Seth is jetting off to far-flung locations to perform sold-out shows, he worries that Izzy will find a "Joe Normal" and opt for a more ordinary life. Plus, he could do with some support when a certain entitled rock star girlfriend gets too big for her Jimmy Choos and threatens to break up the band.
There is a solution, but are either of them willing to take the plunge?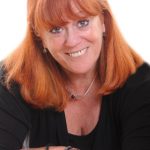 About Berni Stevens
Berni lives in a 400-year-old cottage in Hertfordshire, with her husband, black cat, an ever-growing family of goldfish who think they're piranha, and occasionally her son when he needs feeding up!
She trained in graphic design and has worked as a book cover designer for over twenty-five years for both publishers and many self-published authors. Any 'spare' time is taken up with jazz dance and Zumba (she's a licensed Zumba instructor), going to as many rock concerts as she can, and hiking canyons (whenever she can afford to) in the stunning Utah desert…
Books:
Dance Until Dawn, Berni's UK debut was a paranormal romance, followed by its sequel, Revenge is Sweet. Her first festive RomCom was One Magical Christmas in 2018 and Izzy's Christmas Star followed the festive RomCom theme in 2019. Laughing all the Way on the Jingle Bells Express was published in 2021, and now her latest and the sixth book to be published by award-winning publisher Choc Lit, is It's Only Rock and Roll which revisits hunky rock god Seth Roberts and Izzy Grant. This time Scarlet Gryphon are on part of their world tour, but not everything is hunky dory.
Find out more about Berni here
https://www.facebook.com/berni.stevens.5/
https://twitter.com/Berni_Stevens1
https://www.instagram.com/berni.stevens.5/
https://www.bernistevenscoverdesign.com/