With Christmas getting ever closer, and the weather turning frosty, it's just the right time to curl up with a good festive book.
And Hope, Mistletoe and a Christmas Promise fits the bill completely, and it takes us all to Hong Kong too!
I invited author Juliet Archer to tell us all about it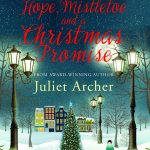 Tell us about the book
It's about two people discovering the real meaning of Christmas, aided and abetted by a six year-old.
The heroine, Pip Smith, has been dumped by her fiancé for another teacher at the same primary school. She's decided to leave behind her beloved job – and no-longer-beloved ex – to spend a fortnight in Hong Kong sorting herself out. Needless to say, things don't go to plan!
The hero, Ryan Hawke, runs his life – personal as well as business – on his own terms. Except he's now responsible for his six-year-old niece, Shelby, and this presents him with a completely different challenge.
From their first accidental meeting at the airport, Pip and Ryan clash over everything – including Shelby. But maybe, just maybe, Shelby has plans of her own – especially as Christmas approaches … 
Why did you decide on Hong Kong as the background for the novel?
I've wanted to set a story in Hong Kong for a long time. My husband spent his childhood in Kowloon, and I felt as though I knew the place – or at least his version of it! – long before we went there in 2018 and 2019.
For me, Hong Kong embodies the ultimate East-West culture clash – an idea that inspired Pip and Ryan's first meeting at the airport. 
Did you always want to write?
 When I was little, I was always making up my own versions of the stories I read. Once I entered the world of business, however, my focus was on report writing – and fiction went out of the window. A WEA course on creative writing piqued my interest again, and I never looked back!
How does it feel when you first put pen to paper (or rather hands on keyboard)?
 It's usually a particular scene that starts me off, one that's been playing in my head for a while, and I'm always excited to write it down. As I'm a 'pantser' rather than a 'plotter', this experience tends to be repeated many times. I often end up with a collection of scenes and have to work out how they fit together!
Excitement can give way to frustration when Real Life gets in the way – which often happens – and I haven't got the time or the head space to write.
And my preference is hands on keyboard, although I sometimes jot things on a piece of paper if I'm out and about. The older I get, the more chance there is of forgetting an idea or a form of words …
What does it feel like to send the book off after the final edits?
Wonderful – a real sense of achievement and of everything coming together at last! Choc Lit and Ruby Fiction have an excellent editing team and this, along with the early reader feedback from their amazing Tasting Panel, means it's been a joint effort to make my book the best it can be.
Of course, the book is just beginning its journey in the big wide world and I still need to focus on all the promotional activity, like this Hop-on Tour. The Choc Lit and Ruby Fiction family are very supportive every step of the way, which is lovely.
What are your tips for budding authors?
Write, write, write – and develop your awareness of what does and doesn't work for your particular 'voice'. This might be through a writing buddy or group, people who you can trust to give you balanced feedback from a reader's point of view.
There are also some great books on fiction writing – again, find one that 'speaks' to your style or genre.
What are you working on next?
As soon as Christmas is over, I'll start working on the long-promised sequel to One Summer Weekend. This will be my third book about the Smith family and the focus will be on Jack – although other characters from Hope, Mistletoe and a Christmas Promise are bound to make an appearance …
Thank you, Chris, for inviting me onto your lovely blog, Chris. Happy Christmas to you and all your readers!
When a Christmas promise becomes hard to keep …
Pip Smith knows she owes it to her family to hold on to the festive traditions that have been a comfort since the year everything changed – but this Christmas she's going to need a miracle to keep everyone in her life happy.
After she's dumped by her fiancé, an invitation to visit a friend in Hong Kong in the run-up to the festive season seems to offer Pip the perfect escape – and she'll be home for Christmas, of course. Except her escape ends up becoming far more complex than she intended, when she becomes involved with arrogant American Ryan Hawke and his niece, Shelby – a little girl whose most heartfelt Christmas wish is for a proper family.
Will Pip keep her Christmas promise – or will it be more of a compromise, with the help of a little hope and mistletoe.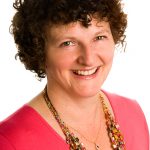 About Juliet Archer
Juliet Archer writes award-winning romantic comedy for Choc Lit and Ruby Fiction. She has been known to spend many happy hours matching irresistible heroes with their equally irresistible chocolate counterparts – watch out for the dark nutty ones!
Her debut novel, The Importance of Being Emma, won the Big Red Read Book of the Year 2011 Fiction Award and was shortlisted for the 2009 Melissa Nathan Award for Comedy Romance. Her second novel, Persuade Me, was shortlisted for the 2011 Festival of Romance Best Romantic Read Award.
Juliet was born and bred in North-East England, and now lives in Hertfordshire with her husband and temperamental cat. She has two grown-up children, one in London and one in the USA, and has recently discovered the joys of grandchildren. Her non-writing career has spanned IT, company acquisitions, marketing and project management.
Books: 
Juliet's first novel, The Importance of Being Emma, was Choc Lit's debut title, and Persuade Me followed in 2011. Juliet has also had two short stories published: Incense & Insensibility in the Love Match anthology, and Love Rules in the Kisses & Cupcakes anthology (both Choc Lit). So far, she has written two books about the Smith family – One Summer Weekend (2018) and Hope, Mistletoe and a Christmas Promise (2022).
Find out more about Juliet here 
Website:               www.julietarcher.com
Twitter:                 @julietarcher
Facebook:            @julietarcher77