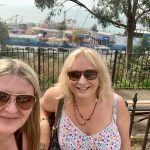 I always look forward to meeting up with Lizzie Chantree. We have a lot of fun, talk about books, our ideas, how we write, and all sorts of random stuff!
We always start with a plan…a cup of coffee, and if our meeting is in Southend, a full English breakfast in one of the cafes in the Arches along the seafront. Our previous endeavours have been done in some fairly inclement weather. But not September's. Oh, no! September's was sunny. And hot, and gorgeous, and frankly rendered me a little more skittish than usual.
So I forgot to bring my notepad with my ideas in. The only one I had in my head was…tenacity..because I wanted to use a 'Nobody puts baby in the corner' gif from Dirty Dancing in the blog. However, lured out by the sparkling sea and clear blue sky, we decided that a walk along Southend's iconic pleasure pier – the worlds' longest at 1.33 miles – would be an ideal way to walk off our breakfast and help us bask in the sun.
So, that was the beginning of our 'go with the flow' day. Which is what my writing is like really – sometimes I just sit there with a plan, start to type and somehow go off in an entirely different direction to what I'd intended. I also write the scenes I feel like too, when I can't get one out of my mind, rather that the next piece of the plot. I did that, for example, with the dancing scene in Lisbon in New Beginnings at the Little House in the Sun, and also, the last chapter in Finding Summer Happiness. And because I went with where my imagination was, instead of doggedly writing what I'd thought I should, what I came up with was much more vivid, and I went back to the bit I had planned to create with more enthusiasm and energy.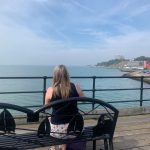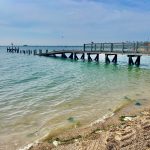 Just a few minutes after we'd stepped onto the pier, the sound of the bustling seafront seemed miles away, the noise of traffic and chatter giving way to lilting waves and seabirds, and it felt so very, very calm, only interrupted with the pier's trains chugging past heading back to shore. We stopped several times to enjoy the view, then took the train back ourselves. I love days like these – the sense of movement and fun, just walking and getting on and off things. We got so excited with our trains, planes and automobiles idea when we were on the actual train, we decided to try and find a plane on a ride at Adventure Island. Sadly (or maybe just as well), it was closed, so Lizzie had a paddle in the sea and we spotted a helicopter advertising another ride….couldn't get on it, so took a photo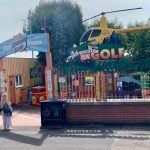 instead…it's the thought that counts!
Then we headed up Pier Hill to Clifftown Parade, where there are some gorgeous, distinctive houses and little hotels, plus a cafe where we could have a drink – latte, always latte, and an orange juice and soda for me, thanks…. From here we were able to watch the world go by, once again just a few hundred yards away from the crowds, and plan our next trip.
Then I drove home in my car, and Lizzie drove home in. hers, so we did the automobile bit too.
Remember, nobody puts baby in the corner….no, I mean, go with the flow and let your imagination run riot. You never know what you might find!
Lizzie Chantree
I'm running a seminar on book marketing soon and I can't stress enough, that marketing can be a lot of fun. I regularly meet up with fellow author Christine Penhall and we basically decide what we will be doing that day, as we go along.
This time, we had glorious sunshine and a trip to the end of a grade II listed, over 100 year old pier, that sticks out over 1.3 miles into the sea. Of course we made time to dip our toes in the water, drink tall glasses of coffee and also write pages of notes, for future projects. Such a hard day at work! We decided that our theme would be planes, trains and automobiles, as we drove to the seaside, got a train back from the end of the pier and Chris ran into every amusement arcade, to try and find a colourful plane to ride in. We had to settle for a helicopter!
We talked about future books, ones we are writing now and the world of publishing. Along the way, we walked to the end of the pier, took loads of gorgeous photos, used the time to think about some book or writing related places we could visit and had a real giggle. We ended the day by discovering a public garden hidden in the middle of rows of houses. It had a huge fountain with carved cherubs at the centre, where pigeons and butterflies were resting their wings and flowers bloomed in every corner. It would make a great setting for a romance novel and the hidden gem inspired us to want to uncover other intriguing scenery. Watch this space for our next instalment, which we think will probably be about unusual objects in book settings, but by the time we meet again, knowing us, our adventures will have a life of their own!