I do love a romance where the protagonists have to grapple with the past before they can move on. And this book is just the ticket for that. So, I invited Joanne Boden to answer a few questions about the book, and how she writes – amongst other things of course!
Tell us about the book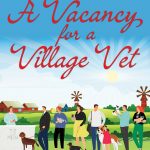 A Vacancy for a Village Vet is set in the cosy village of Middlefern. Daniel Jackson returns after fifteen years to take over his grandfather's veterinary practice. Not only does he have to adjust to life in the country after living in London, he also has to face his actions from fifteen years ago when he said goodbye to the village and his childhood sweetheart, Hannah Kennedy, who still lives and works in the village as a home carer.
The story revolves around these two characters as they grow to know each other again, and realise that the feelings they once had for each other may just be rekindled.
How old were you when you started writing?
I started writing from a very young age, around eight or nine. I always had several exercise books full of stories or doodles and ideas. Many of them were based on books I'd read from the library. I still have notebooks today full of doodles and story ideas.
Did you always want to be published or initially did you write because you just wanted to?
Being a published author was never an end goal for me when I started writing. I enjoyed the process of creating stories and gained huge satisfaction from being creative. Over time I gained insightful criticism and encouragement about my writing that made me think that perhaps I might be able to publish my work. It's a tough road though.
Writing books is very time consuming – how do you fit it around your other commitments?
It is time consuming and it takes me roughly six months to write a book. When I start to write I usually have a very rough sketch of what will happen. I find it helpful to write each day and usually make time to write for two to three hours, if I can. Some days I will write for longer stretches of time, depending on what is going on. The main thing is to write each day and to not worry too much about the word count. Once I have the first draft I breathe a huge sigh of relief.
What comes first – the plot, the characters or the location?
I usually start with the two main characters. I create a clear picture of them in my mind, who they are, where they're from, their likes and dislikes, what drives them etc. One I feel I know them inside and out I then choose a location and flesh out a rough plot, and it is very rough as it usually changes as I write. I find I move scenes around or think, ah this needs to happen now or I'll get rid of a particular scene, but I find it can be flexible as the story is always character led.
How do you feel when you finally finish the last edit and press send?
Nervous–always nervous. I know that I have done enough and my absolute best, but there is always that nugget of donut that it won't be liked. I'll be honest, it is still nerve wracking.
I only have one book idea at a time! Do you, or have you loads of characters and plots flying around your imagination when you're writing your other books?
I really wish that I only had one book idea at a time. When writing A Vacancy for a Village Vet I had the idea for Bluewater Bay book 2 more or less fleshed out and a notebook with ideas for book 3 in the series, plus three other notebooks with ideas for a three book series set around a bed and breakfast. But when I'm writing a first draft I hide those other notebooks so I can concentrate on my work in progress.
What are you working on now?
I am writing Little Bluewater Bay book 3, as yet it is untitled. This book focuses on Lucas who runs the General Store and Angel who is a photographer, who is in the bay for three months to work. I've just hit the 40,000 word mark. It's a lot of fun to write. I love writing the first draft as anything goes.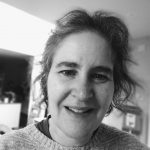 About Jo Worgan
Joanne lives in Lancashire with her husband and their two sons. When she is not busy writing, she likes to take her boys to the local museums, cafes, and walks in the countryside.
Joanne has published 4 non-fiction works aimed at parenting children on the Autistic spectrum, based upon her experiences as a mother of an autistic son. She has also self published a contemporary romance novel, Picking Up the Pieces.
Joanne writes contemporary romances with gorgeous heroes.
Social media and website links:-
Facebook https://www.facebook.com/JoBodenAuthor
Twitter https://www.twitter.com/JoBodenAuthor
About A Vacancy for a Village Vet
From big city high-flyer to little village vet …
Hannah and Daniel were teenage sweethearts, but then Daniel left their sleepy village of Middlefern and his grandfather's veterinary practice behind for the bright lights of London.
Now, fifteen years later, the prodigal grandson has returned to temporarily take over the village practice with a veterinary qualification and his dog, Sammy, in tow. Daniel is ready for rabbits with tummy aches, guinea pigs who've lost their squeak, plenty of cow complaints and a whole lot of memories – both good and bad. But is he ready to see Hannah again?
Of course, a high-flying city vet like Daniel was never planning to stay in Middlefern for good – especially given his history with the place. But could another, even more important, vacancy convince him to change his mind?
Choc Lit https://www.choc-lit.com/dd-product/a-vacancy-for-a-village-vet/