I have been asked how I write romantic and sexy scenes in my books. In all honesty, I'm still stuck in the From Here to Eternity waves lapping on the shore kind of thing, so I thought I'd ask my friend, Lucy Keeling, who has written three funny, contemporary novels with, as she says, 'sexy times and happily ever afters' for some tips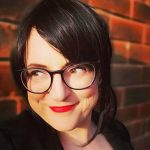 Writing the raunchy times  
A quick how to guide for writing those raunchy moments  
I'm Lucy Keeling romantic comedy author whose books tend to include those open door sexy moments.   
Here's some ideas of where to begin:  
Make sure it fits the story   
You can't just plonk it in there (tee hee) you have to make sure that it's necessary for the story, for character development and for the relationship development of the people involved. Think of it as an action scene if that helps. But if the idea or writing sexy times makes you cringe then don't feel like you HAVE to include it.   
Getting into the mood 
When you first start you might want to light a candle, maybe get a glass of wine, maybe set up a playlist? You don't have to go too far, just make sure you're settled and comfortable. You may struggle writing those sexy times if you're in the middle of a coffee shop, but, don't worry with practice you can write the sexy times any time any place haha.   
Logistics and senses  
Remember to try and use all the senses, describe the action like you would an action scene. But remember that the logistics need to make sense, can arms reach that far without bending, is someone still wearing socks, is that deliberate? Also remember this is one scene in part of a larger story, so try and keep your pacing as needed. Is it fast and frenetic is it slow and sensual? Are they talking throughout, laughing or are they speechless, maybe more reverent.   
Consent and contraception  
You need to include both, there's no excuse to miss these out. If you don't include contraception I'm going to assume either a pregnancy or some sort of STI later on in the story. I've written a list of some of my favourite books below that all provide great examples of consent and contraception.    
Language 
Again this needs to be in keeping with the rest of the book and with the characterisation. The difficulty is avoiding getting too anatomical and biological, and avoiding such flowery metaphors that you confuse the reader with ambiguity. If you are aiming your book at a particular publisher then you might want to read the books they publish to see how your peers are writing these scenes. Publishers might have a house style that stipulates what you can and can't include, for example swear words.  
Mostly have fun 
We write because we love it, or we write because we can't stop ourselves. If writing sexy times will stress you out – then don't do it. But whatever you do, write like nobody is reading. Just go for it. You can edit it later. Good luck xx 
Book reading recommendations:  
Contemporary Romance – Get a life Chloe Brown – Talia Hibbert,  Before you say I do – Clare Lydon 
Romantic Comedies – Sally Thorne – The Hating Game, Elena Armas – The Spanish Love Deception 
Historical Romance – Tessa Dare – The Duchess Deal, Virginia Heath – The mysterious Lord Millcroft 
 About Lucy Keeling 
Lucy Keeling is an author writing fun, sexy, stories with all of the happily ever afters. When she's not typing at the kitchen table, she's arranging and then re-arranging to see her friends for the occasional spot of day drinking. Lucy has written three books in a Contemporary Romance series, the first of which was Runner-Up in ChocLit's 'Search for a Star' competition, 'Make It Up to You' in 2019. The other books in the series, 'Just Friends' and 'Just Friends in Vegas' were published in 2020 and 2021. All are available in paperback, e-book and audio.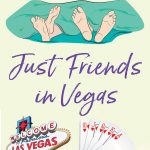 About Just Friends in Vegas
A fun new novel in Lucy Keeling's Friends series. This is Mya's story.
Is love always a losing game?When Mya is with Smithy, it feels like her eyes are constantly rolling. His wheeling and dealing charisma charms everyone but her. Well, that's not strictly true – Mya is only human after all, and there's no doubt the man is hot with his suits and swagger. It's just that Smithy knows Mya's secret, and she's not sure she can trust him to keep it from their group of friends. As they immerse themselves in the glamorous and mysterious world of 'The Suits', growing closer as a result, Smithy has to question whether his time with Mya is destined to become a case of 'what happens in Vegas stays in Vegas' … 
 Keep in touch with Lucy:
www.lucykeeling.com
Facebook: https://www.facebook.com/lucykeelingbooks/
Twitter: @Lucy_K_Author
Instagram: lucy_k_author