My friend, Carol Nightingale has just achieved a long-held ambition to write and publish a book, which is the first of many, I'm sure. It's a psychological thriller called To Have and To Hold.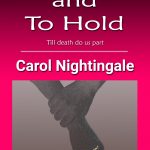 We used to talk about books all the time when we got together, so I thought I'd continue that by inviting her onto my blog and asking a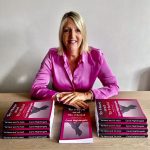 few searching questions……
Tell us about the book.
It's a psychological drama, not a romance as the title might suggest, and recounts Beth's story – starting from her fairytale wedding to what eventually turns out to be nothing of the sort. Without giving too much away, Adam is a complex character and as the story unfolds, a character from the past reappears, leading Beth to reflect on her marriage. 
Where did you get the idea from?
The idea came from an interest in the subject matter and an acquaintance with someone who had faced a similar situation in their relationship. The dilemma this person found themselves in led me to research why someone would behave in this way. I read widely about the subject, including recent changes in the law to support women (and men) who face this situation.
Adam is a very interesting and dangerous character – how did you build him into what he became?
His character needed to grow as the story unfolded. I knew exactly how I wanted him to present him from the outset – a handsome, almost too-perfect catch – with an air of mystery about him. As the story developed and his troubling characteristics became more challenging, I knew that his actions needed to become more dangerous, leading the reader to wonder exactly what he was capable of.  I then felt the need to offer some sort of explanation as to what might have led him to behave in this way, which I hope offers readers a chance to reflect on his character. I have to say, building Adam's character was the most challenging yet enjoyable aspect of the book.
For how long have you wanted to write?
It's been a lifelong ambition to write a book. I've always loved books – both reading and writing. I still have stories I wrote as a child, including a 50-page handwritten, illustrated book entitled 'A Term at St Joan's' inspired by Enid Blyton's Mallory Towers! As I progressed through two diverse careers, in banking and teaching, whilst raising my two daughters, it was always in the back of my mind that one day I might have the time and inspiration to put pen to paper. Since retiring two years ago, I have been able to achieve my ambition.
What motivated you to put pen to paper for this novel?
This wasn't the original plan – I have an amazing story within my family that really needs to be written, but I soon came to realise that whatever you write about, it needs to be thoroughly researched and I felt that I didn't have the depth of knowledge to write about the past. This idea came from an encounter with someone who was facing a similar situation as one of the characters (not Beth or Adam!) I don't know how the story unfolded in real-life, so all events in the book are totally fictitious, based purely on wider reading of the subject matter.  
How did it feel when it was published?
I can't explain how delighted I was when I received my proof copy! It didn't seem possible that my dream had finally come true. Once people started to read and review it positively, I felt that it had all been worth it.
Have you got anything new in the pipeline?
I've just completed a small project that I've been working on alongside writing my novel – 'In the Kitchen with Nana'. It's a 30-page book filled with kitchen ideas and recipes for toddlers up to the age of 3. It came about because I've been baking on a weekly basis with my granddaughter, Lily, since she could stand on a chair!
Now that's completed, my next project will be my second novel. I have decided upon the title and the story outline, and can't wait to begin!
About To Have and To Hold
"I take you, Beth, to be my wife, to have and to hold from this day forward…" In an effort to erase painful memories of the past, Beth believes the answer lies in marriage – traditional and wholesome – with the prospect of a loving relationship and a happy home, just like her own parents. But dreams rarely come true, as Beth is about to find out. The past catches up with us whether we like it or not, no matter how hard we try to hide from it. Often it brings happiness and joyful memories, but sometimes it casts dark shadows that linger on…
Buying Links
Available on Amazon – ebook and paperback https://amzn.eu/d/8TYWVmI
 About the author
Born in Staffordshire, Carol began her first career in the world of banking after graduating from Leeds University with a degree in Modern Languages. Whilst raising her two daughters, following a move to rural Somerset, she completed a further degree in English Language, and by the age of 40, embarked on her second career teaching English. Teaching children and encouraging them to not only love books, but to find pleasure in both reading and writing gave her immense satisfaction. During her 20-year career as head of English, she inspired children to write poetry and short stories which went on to win national competitions. Since retiring two years ago, she has had the time and inspiration to fulfil a lifelong ambition to write her own novel, alongside working as a freelance proofreader and copy editor.
A lover of books, cookery and cake making, Carol plans to continue her writing with subsequent novels of a similar genre. She intends to seek inspiration from her regular travels abroad and to the Dorset coastline, and from her family and friends – especially her partner – Mike, daughters – Charlotte and Laura, granddaughters – Lily and Martha, and her Mum – Patricia, all of whom offer constant encouragement and support.
To Have and To Hold is Carol's first book.
To follow what Carol's doing, visit
Facebook – Carol Nightingale Author https://www.facebook.com/profile.php?id=100094320254216