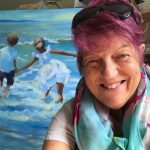 My new novel, Finding Summer Happiness is set on the Pembrokeshire coastline and reflects my love of the south Wales coast. i was born in Neath in South Wales and have always been entranced by the beaches, coves, cliffs and landscape of that part of the world.
I now live in Essex.
Sue McDonough was born in Essex and lives in south Wales. She has written four novels based around the gorgeous Gower peninsula, the latest of which, Summer of Hopes and Dreams has just been published.
So, we had a chat about me being from there and living here, and her being from here and living there, and us both writing stories set in Wales.
Sue is also a successful artist and has designed her own book covers, so we had a lot to talk about. You can listen here:
https://christinepenhall.podbean.com/e/the-talking-to-my-friends-about-books-podcast-sue-mcdonagh-and-the-art-cafe-series/
Summer of Hopes and Dreams
Can "Dozy Rosie" spice up her life and prove she's not boring?

Rosie Bunting has spent her life caring for others, often at the expense of her own hopes and dreams. But when she overhears somebody describing her as "boring", she decides it's time for a change.
Little does she realise that the outdoor pursuits weekend brochure handed to her at the local Art Café will kick start a summer that will see her abseiling down a Welsh cliff face in "eye watering" leggings, rediscovering her artistic side and unexpectedly inheriting an old fire engine. It also involves meeting hunky outdoor instructor, Gareth Merwyn-Jones – although of course he'd never be interested in Dozy Rosie Bunting … would he?
One thing's for certain: Rosie's path to achieving her hopes and dreams might not be smooth, but it's definitely not boring.
Amazon page: https://tinyurl.com/y5f44qd5
Sue McDonagh Writer Facebook page: https://www.facebook.com/SueMcDonaghWriter/
Twitter: https://twitter.com/SueMcDonaghLit
Choc Lit author page: https://www.choc-lit.com/productcat/sue-mcdonagh/