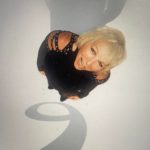 Sadie Nine presents the afternoon programme at BBC Essex from Monday to Thursday between 2pm and 6pm.
She's also a singer, actor and columnist and is currently writing her memoires, as well as getting ready for her return to the stage with her new one-woman show at the Mercury Theatre in Colchester.
Click on the link to listen
https://spotifyanchor-web.app.link/e/s8x73WBwRyb
Sadie's Nine Lives is about just that – Sadie's life!
Join the iconic BBC Essex radio host Sadie Nine as she takes you through hilarious times, her crazy tours and true stories from her amazing radio career that has spanned over 25 years.
She'll talk of stories of stars she's graced the stage with, hilarious memories as a singer and actor, and talk movingly about her battle with cancer and what it means to be a survivor.
It's on at the Mercury Theatre in Colchester on 5th May. Click on the link to buy the tickets