In my novel, The House That Alice Built, Alice has had to put her creative talents to one side in order to earn money to pay for the renovations and mortgage on her beloved house. When she goes to Portugal, she gradually begins to find that part of her that's been lost over the years, and rediscovers her creative side.
For some people, though, its always there, and its not a question of rediscovering it, but finding a way to overcome obstacles in order to continue doing it, albeit differently.
Bridget Metcalfe is a professional singer/songwriter, singing teacher, event host and artist. She has released soul singles On The Beach and Things Are Over Now and the jazz album In Your Eyes. She also produced and presented a BBC regional arts and entertainment radio show from 2008-2015. Bridget is a talented artist and has established several arts and crafts groups, as well as producing her own jewellery, and is currently setting up an online art gallery.
The Left-Handed Art Exhibition by Bridget Metcalfe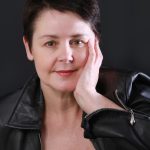 In 2016 my father was suffering from lung cancer. I went back home for a while because my mother and sister knew the inevitable was coming and we all wanted to be with him when he passed away.
One day, I climbed onto the tall kitchen stool looking for black pepper and fell, hitting the floor hard. I badly fractured my right-wrist. A colourful mistake in the hospital's plaster room meant I was at Dad's funeral with a bright, neon-yellow cast.  
Back in my own home, I had to fill time while my arm healed. I found an old tin of watercolour paints, good paper and brushes.
I'm right-handed so I began painting with my left.
I had a new apartment in Chelmsford but couldn't leave home without a walking stick and the nightmare yellow cast, so I started to paint what I saw from my tall windows. Still under construction, the multi-storey buildings, the cranes, scaffolding and the developing urban site became my inspiration. 
Everything I painted became a riot of colour and not what you'd perhaps imagine on a building site.
The Transition art gallery was opening on the site too. I popped in to say hi to the owner, Andy Pinkney. Now with 27 paintings, Andy came to see my all work finished, framed and presented in my spare room with an easel, music and coat stands, a lamp and whatever else to hand.
"When do we open"? I asked boldly. "Three weeks' time" he replied. And we did.
So, here I was with a new career as an artist. Two paintings at the Koppel Gallery in Holborn, London followed and I'm currently setting up an online art gallery, AmberArtists.com.
The most amazing thing is that 50 years ago, realising I had artistic abilities, my father took me to an art shop and bought me some good quality watercolours. It's those I used to paint the Left-Handed exhibition.
www.bridgetmetcalfe.com