The House That Alice Built is set in Cascais in Portugal, where I lived many years ago. It made a huge impression on me and some of the locations I use in the book are real, whereas others are a mixture of reality and imagination based on other beautiful places in Portugal that I know well and love very much.
If you ever get the opportunity to visit the country, I took some photographs on my most recent visit to give you a bit of a taster.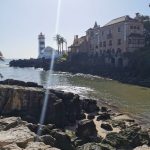 Farol Santa Marta
Next to the stone bridge and opposite Parque Marechal Carmona, Farol Santa Marta is a place dear to Alice's heart. She passes it every time she walks from her apartment along the sea road and into the town. It's also the setting for one or two encounters – both romantic and…not..
Largo Luis de Camoes is a vibrant square in the centre of Cascais, full of cafes, bars and restaurants. People are constantly passing through, sitting, chatting, and relaxing, and it becomes an important meeting place for Alice.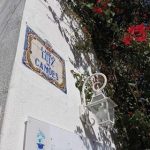 The square is named after Luis Vaz de Camoes, who is regarded as Portugal's greatest poet, and is best remembered for his epic work, Os Lusiadas.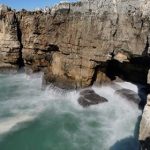 The Boca de Inferno – The Mouth of Hell – is on the sea road going west from the centre of Cascais. Originally a sea cave it collapsed leaving a chasm into which the wild Atlantic waves crash, and during strong storms the water explodes upwards like a volcano. Alice imagines at one point throwing her phone into it…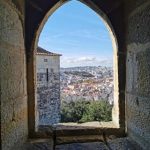 Alice spends some time discovering beautiful Lisbon, including Castelo Sao Jorge in the Santa Cruz district of the city. It's at the top of its seven hills and its easy to just stand and stare simply drinking in the view.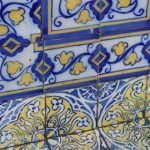 Azelejo's are everywhere in Portugal – including on seats. This one is at  Miradouro de Santa Luzia in Lisbon. This popular observation point provides stunning views over the city and the river and its where Alice heads to on her (eventful) birthday
And here's another view…just because…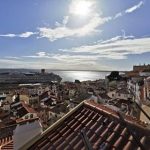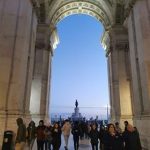 Lisbon features a lot in the sequel to The House That Alice Built. Here's one of Alice's favourite spots –  from Arco de Rua Augusta into Praca de Commercio with the river beyond.
The novel is set in Cascais near Lisbon, but I also spend a lot of time in Lagos in the Algarve, which has inspired some of my descriptions of  the back streets of Cascais. This is a little square tucked away near to the city walls in Lagos along Rua Marreiros Neto which I re-imagined in Cascais and where Alice finds herself towards the end of the novel when she is a little bit fraught…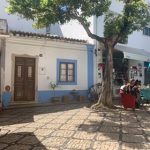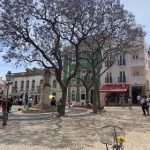 The sequel to the House That Alice Built, which will be published in the summer, meets Alice in Cascais in spring when the jacaranda trees begin to bloom. I haven't got a photo of a Jacaranda tree in Cascais, but here's a magnificent specimen in the centre of Lagos.
The House That Alice Built is published by Ruby Fiction.
Currently available on e-book and audio, the paperback will be published in July 2020.
And the sequel will be released in the summer.
For more information visit https://www.chrispenhall.co.uk/the-house-that-alice-built/
https://www.rubyfiction.com/