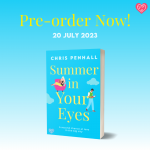 Q&A WITH AUTHOR CHRIS PENHALL
In last week's digest we announced SUMMER IN YOUR EYES by award-winning author Chris Penhall is now available to pre-order. Ahead of it's release, we caught up with Chris.

Read below to find out about Chris' writing process.What's the inspiration for this book?

I love walking around London, often with no clear idea of where I'm going, and finding all sorts of hidden gems along the way. Like a lot of cities, it's constantly evolving and growing, and you can amble past an ancient church tucked next to a glossy new tower block, or Roman ruins sitting underneath a row of houses. I was early for an appointment a few weeks ago and accidently found an old second-hand book shop in a residential street in Camden. The walls were covered with wisteria in full bloom — I absolutely love wisteria — so I obviously had to pop in for a look. I bought a guidebook about hidden rivers in the city, which I thought would be a very Holly Merriweather thing to do. It's now sitting on my bookshelf waiting for me to use it to plan more exploration in my favourite city! So, the idea of a travel blogger living in London and discovering all of this around her really appealed. Plus, all these buildings with amazingly vibrant histories are everywhere. What if one of them had been forgotten but seemed to hold the key to help all the characters in the story? On top of this, Holly is a film fan, and so am I, so I decided she could feel she was living in a giant film set . . .

Tell us about your characters?

Holly Merriweather is a travel writer who gave that up to start a new business with her childhood sweetheart, Ed. Unfortunately, both the business and the relationship ended, so she's starting again and determined to get her life on track. She's very kind, very imaginative and loves films and music. She's lost her confidence, both in her talent and in herself, so is really reluctant to get involved with any man at all when we first meet her, especially not someone she works with, given what happened when she started a business with her ex-partner, Ed.

Jack Fambridge is also not interested in being involved with anyone, especially not someone he works with, as the ripples of his divorce from his wife, who was also a business partner, are still causing him issues. He's just returned from running an outdoor pursuits centre in Costa Rica to help rescue the family publishing business. He is also extremely gorgeous and much happier paddle boarding on the River Thames than sitting at a computer in an office.

There are numerous other characters to meet in the book: Claudette Fambridge, who owns the publishing company, Holly's parents (Gary and Julie), who love '80s music and 1980s music weekenders, Melissa (Holly's best friend), who's in PR, and the inhabitants of Farthing Street, which is not far from Holly's new home.

Tell us about the setting?

I love Primrose Hill, but the property prices are 'slightly'(!) out of my reach, so I've done the next best thing to me living there: I've let Holly live there. She's in a house that she's renting at a very reduced price because it's owned by a relative of Melissa's, who is away for a couple of years and needs to let it out. They are doing it very cheaply, probably for tax reasons . . . We also spend a lot of time in different parts of London, partly because Holly is researching guidebooks. I've done all my own research you know!

How do you want readers to feel after they've read your book?

I'd love them smile when they think of it and want to read it again!

What's your favourite thing about this book?

It's difficult to choose one particular thing but I think it could be all the characters in the story — I loved creating them, and sometimes I'd just smile to myself when I was writing some of the dialogue. If anyone noticed me giggling to myself in a coffee shop somewhere while tapping away on my computer, I could well have been in the middle of a scene with Holly's parents, Gary and Julie . . . And I love being able to show London through the eyes of a travel blogger and a film fan. I'm a frustrated travel writer to be honest, so this has been a great way to write a travel-related paragraph here and there! And that's two things, sorry — I'm given to getting carried away and overenthusiastic sometimes, a bit like Holly!