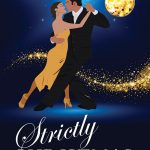 My Spotlight Series is all about fame and love, with characters who are singers, actresses, dancers, sports stars and reality TV performers. The stories can all be read as stand-alones, and you can be sure they'll have dramatic twists and turns!
The Series contains three books at the moment
Strictly on Ice
Celebrity SOS: Love Survives
Strictly Christmas Spirit
I have great fun researching for my books – reading gossip pages and watching reality TV shows. All my characters are fictional, but a lot of my stories are born from "what ifs" – when I'm watching a reality TV show I just think to myself…
What if these characters fell in love on camera?
What if these characters already knew each other and have a shared history?
What if these characters are thrown together on a show but they really dislike each other?
The shows that inspired the Spotlight Series include Dancing on Ice, I'm a Celebrity…Get me Out of Here!, Celebrity SOS, Strictly Come Dancing, Made in Chelsea, and The Great British Bake Off, to name but a few. Some of these shows are linked to the current three books, and some are inspirations behind the books to come in 2022.
But in Strictly Christmas Spirit, there's another real-life inspiration behind the story, that didn't come from reality TV. It comes from the year I spent working for the Salvation Army in London. Like the character of Emily, I was also a community centre manager, running services for the homeless, at risk, and marginalised in the local community.
I never had a Hollywood Superstar like Blake Harris come to do community service at the centre, but I did run a homeless lunch drop in, an arts and crafts session, and a winter night shelter.
It was hard work. Like Emily, I worried about the service users, wondering if they were ok on the streets that winter. I worried about budgets, about safety, about funding, and about staff. It was a challenging experience that I learnt a lot from and I will never forget it. Likewise, I will never forget the appreciation and admiration I gained for Salvation Army workers. They work tirelessly to help those most at need all year round, not just at Christmas.
I hope that Strictly Christmas Spirit touches people's hearts with its message about how it's possible to change your life, and touch the lives of others. I loved writing it and I hope you enjoy it too.
About Helen Buckley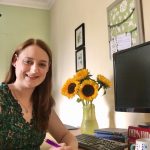 Helen Buckley lives in Bedfordshire with her husband and two sons. After working in the charity sector in the UK and abroad, she turned her hand to writing stories of fame, romance, and happy ever afters.
Apart from being addicted to writing and enjoying soft play with her sons, she's an avid reader, action-movie fan, and chocolate addict.
About Strictly Christmas Spirit
From disco balls to Christmas baubles …
Ex-dancer Emily Williams turned her back on the sparkle of popular dancing show Strictly Dancing with Celebs to help those in need. Now the only dancing she does is teaching lonely pensioners to waltz, and the closest she gets to disco balls is making baubles with the homeless people in her Christmas crafts class.
She's certainly not star-struck when Hollywood heart-throb Blake Harris is sent to her at short notice for community service, and has no desire to babysit the arrogant actor with his bad boy antics and selfish ways. Christmas might be a time for miracles, but Blake seems to be a lost cause.
But Emily's reasons for abandoning her dancing passion means she understands the Hollywood wild child more than she'd like to admit. Could their time together, coupled with a dash of Christmas spirit, lead to a miracle change of heart for them both?
Book 3 in Helen's Spotlight series but they can all be read as standalone stories.
https://mybook.to/StrictlyChristmas
www.buckleybooks.org
Facebook: Helen Buckley Author
Twitter: HelenCBuckley
Instagram: Helencatherinebuckley