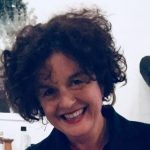 Book Festivals are a fantastic way to celebrate books and all they bring with them, and I'm lucky to have one right on my doorstep. The Essex Book Festival returns for its 21st year in March 2020 and I asked Festival Director, Ros Green what makes it special.
Standing out from the crowd ..
We like to think that Essex Book Festival is a bit different from all of the other 360+ book festivals around the country. For one thing, our key ambition – the thing that gets me out of bed every day – is to reach out to all communities across Essex: Essex Book Festival is for everyone and we make no bones about it. It is also the only countywide festival of its kind that has events taking place in such a wide variety of venues. These include lecture halls, theatres, Tudor palaces, art galleries, cafes, castles, and libraries. The nature of the venues themselves reflects the breadth of the programme, which, starting with the book, embraces a variety of art forms: film, theatre, storytelling, print and spoken word.
March 2020 is no exception. We are absolutely thrilled to be welcoming Val McDermid to launch this year's Essex Book Festival. Val will be talking about her latest book How The Dead Speak at Anglia Ruskin University in Chelmsford on 28th February. We are likewise extremely chuffed to be hosting an author event with Jess Phillips MP at the University of Essex on 5th March. Jess will be offering fascinating insights into the world of Westminster as she reads from her best selling book Truth To Power: 7 Ways To Call Time on B.S. Other hot tickets include Radio 4 presenter Jim Al Khahili; award-winning crime writer Frances Fyfield; debut Nigerian author Abi Dare; Harlow-born Editor of the New Statesman Jason Cowley; and the esteemed historian AN Wilson.
Science will be a key festival focus next March as Chelmsford limbers up to host the prestigious British Science Festival later in the year. To do our bit we will be hosting a special Climate Change strand of activities for children and young people under the banner of A Manifesto For Essex. This will include a great event with Chelmsford Ideas Hub: our Tree-Mend-Us Day, which will take place at The Civic Theatre in Chelmsford. Tree-Mend-Us will celebrate the importance of trees in the environment and will include all sorts of family fun tree-inspired activities.  And this is just the beginning. Throughout the month, and indeed in the lead up to British Science Festival, we will be working with schools, community groups, and venues across the county to explore what we can all do to make a difference to the environment.
The full programme will be announced on Monday 13th January. The same day tickets will go on sale via our website: www.essexbookfestival.org.uk.  We recommend people get in quick especially if they are planning to se Val McDermid and Jess Phillips!
Ros Green is the Director of Essex Book Festival. She is a freelance writer and arts consultant, and has a PhD in Literature from the University of Essex.