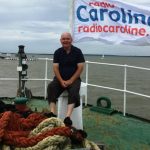 The House That Alice Built is fiction, but some authors are talented at writing about their own experiences and what they are passionate about. Ray Clark is a Sony Award-winning broadcaster who started his radio career as a pirate...
I've been lucky enough to get through life, so far, without making too many plans in advance – I love the surprises that life throws at you, and most times they work out OK. So, did I wake up thinking today I'm going to be an author?  Well no, I probably started my day thinking that I might become an astronaut, if time allowed, or maybe an artist, or possibly a train driver – you might think I'm joking, but I've still not written off any of those things happening to me. 
So, how did I become an author of two, reasonably successful books, with a third on the way? 
I went shopping. Well to be honest, I made arrangements to meet up with a former workmate at Lakeside, the huge shopping Mall close to the Dartford Crossing on the M25. I arrived early and had time to fill, now I don't wish to appear sexist, but whilst my wife can spend her time happily wandering from store to store at any shopping centre,  the choice for a middle aged man is far more limiting. Basically I had an option of visiting just three stores until the pre-arranged meeting with my chum – at Spud-u-Like, you're beginning to see just how exciting my life is by now aren't you? 
A visit to Currys, but I wasn't in the market for a TV or even a new fridge. Next stop, the Apple shop, crammed full of things that I'd like, but do I really need any of them?… and finally into Waterstones, browsing through the various sections, but always with one eye on the label of each section. Did I really want my fellow browsers to think I was mad about politics, a student of the occult, a sporting expert or watching their every move in the psychology section?  
No, I went to the music section, which includes books on something I know a bit about – Radio. There were three radio books on the shelf, one about Radio 4, another about The Archers and John Peel's biography. 
As important as all three are, there is more to life – and radio for that matter than Radio Four. It was the topics that were missing from the shelves that got me thinking and one prospective title in particular: Radio Caroline, The True Story of the Boat That Rocked. 
As a child I had listened to Radio Caroline in the sixties, I grew up with it in the seventies, I worked on it in the eighties and it's given me a great career since then. It also happens to be my 'Mastermind topic', I've followed all the disasters, raids, and storms, both political and natural that have done their utmost to close the most famous pirate radio station in the world, yet more than fifty years on it still exists, and because of my interest I'd met and interviewed many of those involved with the radio station over the years. 
So, standing there in Waterstones on that November day in 2013 I wondered why nobody had ever written the history of Caroline, and my next thought was, perhaps I'm the guy to do it. 
I certainly hadn't planned that.  
About Ray Clark
Ray Clark has enjoyed a successful radio career for more than 30 years, working for pirate, BBC, commercial radio in the UK and America. He has was numerous industry awards and continues to present regular programmes for BBC and Radio Caroline.
Ray has written two books – so far, both published by The History Press: Radio Caroline – The True Story of the Boat That Rocked and The Great British Woodstock – the amazing story of the 1971 Weeley Festival.
He is currently working on his third title …. about his career in radio … he plans to finish it – one day
RADIO CAROLINE was the world's most famous pirate radio station in the 1960s, '70s and '80s. But while thousands of listeners were tuning in across the country, it wasn't always smooth sailing behind the scenes. Though she was financed by respectable city money men initially, Caroline faced many challenges: political opposition, financial worries, technical problems and, of course, the dangers and difficulties of the sea. She defied authority, helped to transform attitudes and promoted musical innovation, love and peace throughout her trials.
Radio Caroline is remembered as an icon of the Sixties but actually continued on through the Seventies and Eighties, and still broadcasts today. Featuring unpublished interviews with the 'pirate presenters' who were there, Ray Clark, former Radio Caroline DJ, tells the captivating story of the boat that rocked.
It started as a donkey derby, a small local charity event, but when plans for the 1971 Isle of Wight Festival fell through, Clacton Round Table decided to hold a pop concert of their own a small gig for 5,000 locals. Little did they know that it would become one of the biggest music festivals ever seen in the UK, drawing a crowd of over 150,000 people. The Weeley Festival of Progressive Music has since become part of British popular music folklore. Overwhelmed by the sheer number of those attending, the experience of Weeley would change how outdoor events like this were organised. Rock stars including Rod Stewart and The Faces, Status Quo and T.Rex, accompanied by Hell s Angels, a rural police force, local volunteers and a complete lack of proper planning, culminated in one of the most legendary festivals of all time. In The Great British Woodstock, this one-off event is remembered by those who were there in both unpublished interviews and photographs.