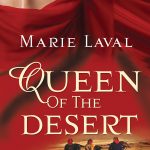 Another fabulous Choc Lit and Ruby Fiction author has a new book out. This time it's Marie Laval, who's family connection to North Africa inspired her to write the book. 
So, I've invited her onto my blog to ask her a few pertinent questions about Queen of the Desert
QUEEN OF THE DESERT
Thank you so much, Christine, for inviting me on your blog to talk about my writing and my latest historical romance novel, QUEEN OF THE DESERT, which was published by Choc Lit UK on February 25th. Isn't that cover gorgeous?
Tell us a bit about the book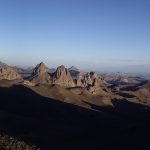 QUEEN OF THE DESERT is set in 1845 and is a historical romance full of action, adventure and treasure hunting…. It is mostly in North Africa where the hero Lucas Saintclair is hired as a guide by Harriet Montague to travel to the South of the country where she is hoping to be reunited with her father, a British Museum archaeologist. Harriet believes that her father was captured by Tuaregs in the far South of the country and is desperate to rescue him.
What was the inspiration?
I have always been fascinated by history, ancient worlds and mysteries, and I really wanted to set a story in North Africa – a part of the world I have dreamt of visiting for many years and where my mother was born and grew up. Writing QUEEN OF THE DESERT was a fascinating process, not only because I absolutely loved the developing romance between Lucas and Harriet, but also because I felt I was travelling with them through Algeria's breathtaking landscapes and discovering the fascinating cultures of some of the people they encountered on their way. One particular group of people are at the centre of the plot: the Tuaregs, also called 'The People of the Veil' or the 'Blue Men of the Desert' because of the indigo veil all men wear from around the age of fifteen.
It sounds very cinematic – are you a fan of things like The Mummy and Indiana Jones?
Yes! I do love Indiana Jones, and I quite liked The Mummy, although it got a bit silly at times, and films like Benjamin Gates and National Treasure which I watched with my children. But one film that I particularly liked was the 1950 film adaptation of King Solomon's Mines with Deborah Kerr and Stewart Granger.
When did you first put pen to paper and begin to write your first novel?
I used to write short stories, many of them inspired by my mother's tales of her childhood in Algeria. I always wanted to write romantic novels, but being French I wasn't confident that I could actually write a full length novel in English until I attended a one day workshop about writing romantic novels and it inspired me so much that I decided to go for it…
You've written a lot of books – do you have a writing routine?
I work full-time as a teacher and I have a family, so my writing time is very limited. However I do try to write a little, or at least to do a bit of research, every evening, but these past few months it hasn't always been possible.
What advice would you give to aspiring authors?
To keep going, write what they love and stay true to themselves.
What are you working on now?
I have several projects on at the moment and my head is full of different plots, ideas and characters I want to write about, but I am finding it difficult to devote enough time to my writing, which is very frustrating. I hope that I can find enough time to settle down and complete at least one of my stories this year.
About  QUEEN OF THE DESERT
Sometimes the most precious treasures exist in the most barren and inhospitable of places …
Harriet Montague is definitely too much of a gentlewoman to be frequenting the backstreet taverns of Algiers. But her father has been kidnapped whilst on an expedition to the tomb of an ancient desert queen, and she's on a mission to find the only person who could save him.
It's just unfortunate that Lucas Saintclair, the man Harriet hopes will rescue her father from scoundrels, is the biggest scoundrel of the lot. With a bribe in the form of a legendary pirate treasure map, securing his services is the easiest part – now Harriet must endure a treacherous journey through the desert accompanied by Saintclair's band of ruffians.
But on the long, hot Saharan nights, is it any wonder that her heart begins to thaw towards her guide – especially when she realises Lucas's roguish façade conceals something she could never have expected?
QUEEN OF THE DESERT is available as ebook from Amazon and Kobo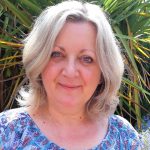 About Marie Laval
Originally from Lyon in France, Marie now lives in Lancashire and writes historical and contemporary romance. Best-selling LITTLE PINK TAXI was her debut contemporary romantic novel with Choc Lit. A PARIS FAIRY TALE was published in July 2019, followed by BLUEBELL'S CHRISTMAS MAGIC in November 2019 and bestselling romantic suspense ESCAPE TO THE LITTLE CHATEAU which was shortlisted for the 2021 RNA Jackie Collins Romantic Suspense Award. HAPPY DREAMS AT MERMAID COVE is her latest contemporary romance. QUEEN OF THE DESERT is Marie's second historical romance, following on from ANGEL OF THE LOST TREASURE which features another member of the Saintclair family.
She also writes short stories for the bestselling Miss Moonshine anthologies, and is a member of the Romantic Novelists Association and the Society of Authors. Her novels are available as ebooks and audiobooks on Amazon and various other platforms.