My novel, The House That Alice Built, is set in Portugal. Alice evolves and changes partly by being somewhere else and experiencing the world from a different perspective.
My intrepid friends Amy Rose Thompson and Nick Thompson are adventurous travellers and have visited many, many countries already. They are continuing to do so on their open-ended round the world tour which they started in 2018. You can enjoy their experiences via their travel podcast, What The Pho. 
Amy and Nick stopped off in Portugal last December, and this is why they love it.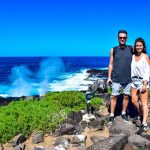 Our fondness or Portugal is linked to our fondness of South America, particularly Brazil. We've been to South America twice and we love the blend of native, African & European cultures. It's not the easiest place to live but even through hard times the people know how to enjoy life. For us, Portugal is a little slice of South America close to home. Once you throw in the nice weather, beautiful architecture and food, it's heaven on Earth. Some of our favourite Portuguese snacks include cod fish cakes (bacalhau) Iberian ham & cheese plus the famous egg custard tarts; Pastel de Nata.
About us:
On our travel podcast we explore, challenge and learn about different destinations around the world to give you travellers some fun facts and travel hacks so you can travel around trouble free and full of knowledge! It's a radio-style travel podcast with features such as Gameshow Facts & Language Lessons with Amy. We explore one country or culture every month plus a travel topic like how to avoid scams. All that, plus we tackle important world issues such as the conflict in Syria or the economic crisis in Venezuela by talking to local people & experts. We are now also making videos of our travels for our YouTube channel.
What The Pho Travel Podcast
Web: https://www.whatthephotravelpodcast.com/
Patreon: https://www.patreon.com/whatthepho
Twitter: https://twitter.com/phopodcast
Instagram: https://www.nonegram.com/profile/what_the_pho_podcast
Facebook: https://www.facebook.com/phopodcast/