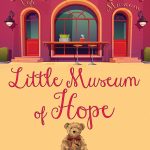 I love exploring museums of all kinds because whatever is on display gives us an insight into someone's life.  Sally Jenkins has written a book about just that.
It's called Little Museum of Hope, and I invited her onto the blog to answer a few questions about it.
Tell us about the book
A jar of festival mud, a photo album of family memories, a child's teddy bear, a book of bell ringing methods, an old cassette tape, a pair of slippers … These are the items that fill the exhibit shelves in Vanessa Jones' museum. At first glance, they appear to have nothing in common, but that's before you find out the stories behind them. Vanessa's Little Museum of Hope is no ordinary museum – its aim is to help people heal by donating items associated with shattered lives and failed relationships, and in doing so, find a way to move on, perhaps even start again. The museum becomes a sanctuary for the broken hearts in Vanessa's city, and she's always on hand to offer a cup of tea, a slice of cake and a listening ear. But could the bringer of Hope need a little help moving on herself?
I love the idea of those items being in a museum – where did you get the idea from?
en years ago, I read a newspaper article about the real-life Museum of Broken Relationships in Zagreb. It's a place where visitors can leave objects which trigger bad memories of their failed relationships and traumas. Little Museum of Hope is a fictionalised version of that Zagreb museum. Donating to the Little Museum of Hope and telling the object's story to Vanessa helps people to move on positively with their lives.
How long have you been writing for?
About 25 years. I started when I realised that magazines paid or gave prizes for readers' letters. Once I'd seen my name in print, I was addicted! I did a creative writing correspondence course (by actual post – it was in the days before widespread email) which led to me getting magazine articles printed. From there I moved into short stories for women's magazines – which is a hard market to crack. After some success with short fiction, I had enough confidence to try my hand at novels. I wrote two psychological thrillers before finding that the genre of 'up-lit' i.e., uplifting fiction, was a better fit for me. One way or another, I've had a long apprenticeship in writing!
Do you have a writing routine?
I have two part-time jobs and run a couple of reading groups so I squeeze the writing in when I can. I'm very much a morning person and I find that the best time to write. I swear by The London Writers' Hour. This is a virtual, hour-long writing sprint held each weekday and it's free to take part. There are four sessions across four time zones. The UK hour is 8am to 9am but you can join in with any of the other sessions too. It gives me a discipline that I might otherwise lack!
What authors have inspired you to write?
Enid Blyton encouraged me to read as a child – I loved Malory Towers and The Famous Five. As a teenager I discovered the early Jilly Cooper novels: Imogen, Emily, Prudence, Octavia, Harriet and Bella. As an adult I've read a lot of crime and thrillers and general fiction. At the moment I'm working my way through Lucinda Riley's Seven Sisters' series.
All these books have one important thing in common: They are easy to read stories about characters who matter to the reader. And that is the type of book I try to write – a tale that will grab the reader from page one and transport her into someone else's life for a few hours.
I'm a one book idea at a time kinda gal – what about you? Do you have a lot of story ideas on the go whilst you are writing about one?
Unfortunately, I suffer from 'shiny new idea syndrome' i.e., when the going gets tough on the current work in progress, a new (and seemingly much better!) idea springs into my mind and demands my urgent attention. Over time I've learned to make a note of the new idea and then to return to the current manuscript – otherwise I flit round like a butterfly and nothing ever gets finished.
Are you working on anything new?
I was working on a new novel until my Ruby Fiction editor sent through the edits for Little Museum of Hope. With a publication date looming, those had to take priority. It was very satisfying to get editorial feedback and suggestions, together I think we have made Little Museum of Hope a great read. Fingers crossed that the reading public think so too!
Now I have to pick up the thread of that abandoned manuscript …
About the book
Little Museum of Hope
Welcome to the Little Museum of Hope, where the lovelorn have a chance to mend their broken hearts . . .
Meet Vanessa. She's newly divorced and starting again at fifty-five. Her ex's affair was a nasty surprise that ended their thirty-year marriage.
But with a son who's flown the nest and her husband gone, it's time for Vanessa to find a new challenge.
Either that or choose to grow old and bitter alone . . .
Vanessa decides to make her dream of opening a teashop come true. It's now or never.
But running a successful teashop is harder than it looks. With customers proving hard to come by, Vanessa's on the verge of being left with nothing — again.
Then she comes across an article about the Museum of Broken Relationships, where the rejected and lovelorn flock to shed the symbols of their shattered dreams.
This gives Vanessa a brilliant idea. She opens up her shop to the broken-hearted and her little teashop soon becomes a haven for jilted lovers.
Vanessa is always on hand to offer a cup of tea and a listening ear. But can the museum help Vanessa to heal her own heart . . . and perhaps find a second chance at love?
Buying Links for Little Museum of Hope : https://www.amazon.co.uk/Little-Museum-Hope-Guaranteed-heartstrings-ebook/dp/B0BW4SZXRQ/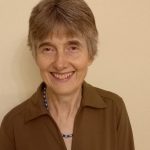 About the author
Sally Jenkins lives in the West Midlands with her husband. When not writing and not working in IT, she feeds her addiction to words by working part-time in her local library, running two reading groups and giving talks about her writing. Sally can also be found walking, church bell ringing and enjoying shavasana in her yoga class.
Get in touch or follow Sally: Website/blog: https://sally-jenkins.com/ Facebook: SallyJenkinsAuthor Twitter: @sallyjenkinsuk Instagram: @sallyjenkinsuk Sally's Amazon Author Page