Tell us about the new book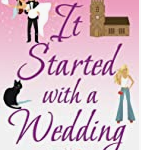 It's the fifth book in the Schubert the Cat series. Schubert's a mystical, magical cat with his very own quirks, and his owner Nessa McCreadie, is getting married. Nessa has asked her twin brother Alfie to organise the wedding – with Schubert, of course – so chaos and romance ensue. It's a feel-good, laugh out loud book in my opinion. Well – I felt good writing it and laughed out loud when I was editing it…  
It's part of a series isn't it – can you tell us about that and how the books are connected? 
Yes, it is. The first book, Every Witch Way is about Nessa and Ewan. In it, we are introduced to Schubert and Nessa, and Nessa's four brothers are mentioned throughout it. Each brother has his own story now, and each McCreadie has a special gift – from seeing ghosts to seeing the future and more. It's definitely a series where you have to suspend your disbelief, but it's very popular and people fall in love with Schubert, so what can you do?  
It's set in Edinburgh – what draws you back to writing about the city? 
I love Edinburgh. I always have. I graduated at Usher Hall, so it's really special for that reason, and it's a beautiful town. The Royal Mile is gorgeous, and there is so much history around the place. I love that it has things like a Museum of Childhood to visit and so many little nooks and crannies to explore. It's about an hour and half by train from where I live, so it's great for a day trip. My favourite restaurant The Witchery crops up in the books, as well as the Christmas Market which is something quite extraordinary, if you get the chance to go and visit that.  
What's your writing routine? You must be very organised to produce so many books! 
I'm lucky in that I work at my day job three days a week, which leaves me four days to fit writing in. I find I'm best at writing for a couple of hours in an afternoon, but I must say my output has decreased significantly now we're coming out of the pandemic a bit. I filled much of my lockdown time writing – although I did continue working throughout the lockdowns, and in the second big one I was classed as a key worker as I work in higher education. I need to get myself back into gear. I promised myself I'd do more over the winter before I got back in the garden, but I'm doing a two year art course which is filling my time up so I'm drifting more towards that than my writing at the moment. I need a clone! I was much more prolific when my son was doing swimming classes and guitar classes and scouts and stuff, as I'd take my laptop to a café and wait for him to finish. He's at Uni now, so I don't take him to his activities any more – ironically, though, I seem to have less writing time!  
How do you feel when you finish writing a book and let someone else read it for the first time? 
I hate anyone looking at my work when it's in progress. I will close my laptop lid if my husband comes too close. I did used to send them to trusted friends to look at before I submitted, but I'm more confident in my work now and know what I'm doing with it, so I just clean up the manuscript, save and submit. I figure that I get really good feedback from Choc Lit and the Readers Panel and they know what they want so I'm happy for them to give the feedback.   
Which writer or writers have inspired you the most? 
Victoria Holt, Mary Stewart and Emily Brontë are the ones I always err towards for my timeslips and dual timelines. However, I find my contemporary, chic-lit sort of ones are inspired by people like Trisha Ashley, Annie Darling and Harriet Evans. Sometimes I send a book off, get it published, and read one of theirs and I'm like oh crikey that's so like mine! But I honestly don't plagiarise – and they don't plagiarise mine! I think there are certain tropes that crop up in the genre, and the more you read, the more you find them. If it makes my books popular, I'm good with that.  
Have you anything new in the pipeline? 
Well, I've deliberately had a huge long break since the end of September when I submitted next Christmas's novella (I know – how horrifying). I knew I had Schubert coming out in February, the next Padcock in the summer and the Christmas 2022 one (all lockdown books!) so I decided to kick back. However, I did start jotting down a story using one of the minor characters in this latest Schubert one. I started writing it in a notebook with a lovely ink pen my friend bought me. And I've used a couple of other nice fountain pens in there too. Unfortunately, I tend to edit as I go along so that's a bit difficult when you're handwriting it. Also, I can't read my handwriting. Also, it's getting quite big, but I'm not sure of my wordcount, so I really need to try and start typing it up. Also, Schubert is demanding an appearance in this one and he wasn't supposed to be in it. But his insistence now means a lot of editing earlier on in the book if he gets his own way – what a dichotomy it's proving to be: Schubert or no Schubert….oh dear! And so – I procrastinate further…. 
About the Book
It's one thing to be asked to plan your sister's wedding; it's quite another when your sister is Nessa McCreadie …Alfie McCreadie wants his twin sister Nessa to have the best wedding ever, but he's not happy at being roped in as wedding planner – especially as, unbelievably, his main assistant seems to be Nessa's cat, Schubert. Anyway, Alfie is a scientist. He might know his protons from his neutrons, but what does he know about weddings? It's Nessa who points him in the direction of Bea's Garden, just outside Edinburgh, where he's tasked with picking a "very-relevant-bouquet". It's there he meets Fae Brimham, who might be prettier than any bouquet bloom but doesn't seem impressed by Alfie's sensible, scientific side. But when Nessa and Schubert are involved, surprises are bound to happen and, despite less-than-perfect first impressions, perhaps something new and beautiful can still blossom for Alfie and Fae …
 Buying links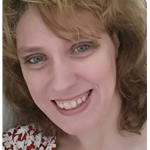 About Kirsty Ferry  
Kirsty Ferry is from the North East of England and lives there with her husband and son. She won the English Heritage/Belsay Hall National Creative Writing competition in 2009 and has had articles and short stories published in various magazines. Her work also appears in several anthologies, incorporating such diverse themes as vampires, crime, angels and more. 
Kirsty loves writing ghostly mysteries and interweaving fact and fiction. The research is almost as much fun as writing the book itself, and if she can add a wonderful setting and a dollop of history, that's even better. 
Her day job involves sharing a building with an eclectic collection of ghosts, which can often prove rather interesting. 
For more information on Kirsty visit: 
www.twitter.com/kirsty_ferryhttps://www.facebook.com/kirsty.ferry.author/www.rosethornpress.co.uk