My fellow Ruby Fiction author, Jan Baynham has a new novel published this week. Her Nanny's Secret is set in Wales and France, and Jan explains how and why she choses her locations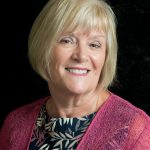 Thank you, Chris, for having me on your blog to talk about my third novel, Her Nanny's Secret, published this week by Ruby Fiction. As with all my novels, it is set in both beautiful rural mid-Wales where I grew up and in a foreign location. In this case, the contrasting place is Normandy in Northern France.
The Welsh setting for the novel is purely fictional. The main character, Annie Beynon, lives in a tiny village called Brynderi just outside the small town of Pen-y-rhos. Although loosely based on the area around Newbridge and Llandrindod, the setting is an amalgam of other small towns and villages you'll find in mid-Wales. By choosing Welsh place names and common Welsh surnames for my characters, I hope that from the outset the reader will know exactly where the story is set. The use of the stunning Radnorshire landscape as a backdrop to the story hopefully adds to a sense of place.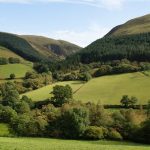 As she cycled along the lane, signs of spring were now visible everywhere. In the shade of the budding hedgerows, clumps of pale-yellow primroses dotted the grass like jewels, and powdery catkins dangled in the breeze. It was always the skies that amazed Annie at that time of the morning on bright, clear days. That day was no exception – streaks of apricot merging into pale pink hung above the hills in the distance. Giant oak trees grew there as if guarding the village that had been named in their honour.  
The story opens in 1943. Like many of the inhabitants of Brynderi, Annie's father works on the Cefn Court estate owned by the wealthy Pryce family. The Beynon home is a tied cottage and the tenancy would come to an end once Ted Beynon could no longer work there.  Annie's late mother had also worked for the family and her youngest brother was a groom at the Court before he signed up to fight for King and country. I was able to explore the differences between rich and poor during wartime through the two families.
It seemed so wrong somehow that some folks had so much and others, like her da, had so little. All the luck of the draw, he used to tell her when she asked why they didn't live in a big house like her friend, Edmund Pryce.
By setting the story in a rural village, I tried to create what it was like to live in a close community where everyone knew everyone's business, not good if someone had a secret they tried to keep for over twenty years as Annie did.
Mrs Howells carried on with her gossiping. Quizzing, her da would say. That woman has to know everything. Ruddy old busy body, as bad as old Mrs Morgan before her.
In the story, I use a Welsh habit of referring to the villagers by the job they do. The butcher is Sid the Meat, the Postmaster is Pritchard the Post, the garage owner is Powell the Garage.
She ladled out the lamb cawl that was bubbling hot. 'Here, Da. Get some of this inside you. That scrag end you managed to get from Sid the Meat has done us for two days now.'
The terms of endearment, cariad and bach, mentions of Young Farmers' clubs, a Welsh barn dance, a twmpath, with a caller and a live band, as well as baking Welsh cakes and cooking cawl are just some of the things mentioned incidentally in the parts of the novel set in Wales. When Annie visits Normandy two decades later, the contrast with the life she knows in the heart of mid-Wales could not be more marked.
'I'm in your hands, cariad. I'd never been further than Aberystwyth on my own … before I came to London to see you, of course. I thought I was being brave doing that.'
I hope that readers will enjoy visiting mid-Wales to learn Annie's story and finding out why she kept a secret for so long.
*****
About Her Nanny's Secret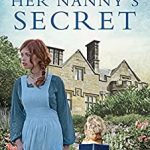 How far would you go to save the person you loved the most?
It's 1941, and Annie Beynon has just become the first stable girl for the most powerful family in her Welsh village. Whilst her gift for working with horses is clear, there are some who are willing to make her life very difficult on the Pryce estate, simply for being a girl.
There are other – secret – ways Annie is defying conventions, too. As the war rages, and when Edmund, the heir to the Pryce fortune, leaves to join the RAF, it seems that it's only a matter of time before Annie's secret is exposed. That is, until she makes a shocking decision.
It's 1963 before Annie is able to face up to the secret she chose to keep over twenty years before. Justifying that decision takes her to Normandy in France, and an outcome she could never have expected …
Buying Links for Her Nanny's Secret:
https://www.amazon.co.uk/Her-Nannys-Secret-compelling-self-discovery-ebook/dp/B09BNP3S1P/
https://www.kobo.com/gb/en/search?query=Her+Nanny%27s+Secret+Jan+baynham
https://www.barnesandnoble.com/w/her-nannys-secret-jan-baynham/1139955323?ean=2940162201946
About Jan Baynham
After retiring from a career in teaching and advisory education, Jan joined a small writing group in a local library where she wrote her first piece of fiction.  From then on, she was hooked! She soon went on to take a writing class at the local university and began to submit short stories for publication to a wider audience. In October 2019, her first collection of stories was published.  Her stories started getting longer and longer so that, following a novel writing course, she began to write her first full-length novel. Originally from mid-Wales, Jan lives in Radyr, Cardiff with her husband. 
You can find out. more about Jan here:
Twitter: @JanBaynham https://twitter.com/JanBaynham
Facebook: Jan Baynham Writer https://www.facebook.com/JanBayLit
Blog: Jan's Journey into Writing https://janbaynham.blogspot.com