I love hearing about the way authors discover their characters and bring them to life. Helen Bridgett's new book, Wrong Sort of Girl, features the crime-solving Professor Maxie Reddick, who's been inspired by  elements of a well-known actress and one of Helen's teachers.  Read on to find out more…
Introducing Professor Maxie Reddick
As
strange as it may sound, when you're writing a novel, some characters take time to develop and unveil themselves to you. You have an idea about their personality but you learn more about who they are and what they like as you write their story.
It wasn't that case with the protagonist of my two crime novels – I knew her immediately. That's because Professor Maxie Reddick is loosely based on my old choir teacher. She was a large lady with glossy black hair and dark twinkly eyes who simply sparkled with mischief and fun. She oozed confidence and although she was friendly and approachable – she also took no prisoners, especially when we were all singing out of key!
I wanted my amateur detective to have this type of personality – she loves fun, food and family but she's also very focussed, intelligent and determined. One of the challenges I had in writing the books was making sure Maxie was accessible to readers. At the first read through, one of my beta readers found her determination a little bit too bolshie!  I had to tame her a little!
I always picture her looking a little like Kirstie Alley and having that same throaty laugh! Maxie loves her bright lipsticks and high heels as much as she loves throwing them off when she gets home before comfort dressing in slouchies. She's been successful in her career and really enjoys her work. At the same time, she's had a son and created a family home with her husband. Because of this, I never saw Maxie as being particularly domesticated – she's not a great cook and does love her takeaways – which are often washed down with a glass of wine!
As well as the Maxie you see now, my leading lady has a past that drives her actions. She loves the law and began studying Criminology with the intention of joining the police. But we learn that something happened to her sister and the police were unable to secure a conviction. This infuriated Maxie and is one of the reasons that she simply can't bear cop shows on TV – she hates to see crimes solved easily when she knows that in real life, that rarely happens. She likes working outside the law and being free from all of the protocols they have to follow.
One of my favourite exercises when I'm developing characters is to decide on their birthday and regularly read their horoscope! Maxie – with her stubborn and determined nature is most definitely a Taurus. As I write this, I've just taken a peek at what lies ahead for her; apparently she's going to expand her horizons and possibly travel. Now there's an idea for the next book!
Wrong Sort of Girl
Book 2 in the Maxie Reddick Series
A young woman has gone missing. It's nearly Christmas. Why does hardly anyone seem to care?
Kelly Ingles should have been a case to tug on the public's heartstrings: a young woman who's gone missing in the run-up to Christmas.
But Kelly wasn't perfect – she liked to party, enjoyed a drink, didn't always make the best decisions. And when evidence of her drunken antics appears online, it becomes clear that Kelly might not just have been in the wrong place at the wrong time; she might also be the wrong sort of girl to encourage public sympathy.
It's a case that's right up Maxie Reddick's street. As a criminology professor, she's made it her mission to challenge unconscious biases within the criminal justice system – the sort of biases that cause girls like Kelly to slip through the cracks.
But can she get the police and public on board before it's too late?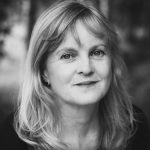 Helen Bridgett
Having failed miserably with every New Year's resolution that involved diets, one year, Helen Bridgett set herself a completely different goal – to write a novel and give it as a Christmas present. Having written one, she couldn't stop!
All Helen's novels feature strong female leads who are faced with situations that they have to resolve. Her goal is to create characters that you would want to get to know better in real life.
2021 saw the publication of Helen's debut crime novel – One by One – featuring Professor Maxie Reddick. The second in the series – Wrong Sort of Girl – is published by Ruby Fiction on October 12th 2021.
As well as crime, Helen also writes feel-good fiction. Her first novel, The Mercury Travel Club featured laugh-out-loud characters who took on a life of their own resulting in the sequel, The Heat is On. Then, in 2020 a new set of characters took up the main stage in Summer at Serenity Bay – a fictional village on the glorious Northumberland coast. These characters will be back on November 12th for Christmas at Serenity Bay.
Outside of writing, Helen loves being outdoors walking with the dog and enjoying a glass of wine and banter with friends.
You can follow Helen on Twitter @Helen_Bridgett