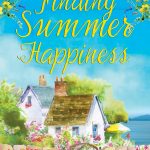 I do love staring at the sky at night. I have no knowledge of astronomy at all really (although rectifying this is something on the top of my list of things to do, which I haven't actually done yet…) However, what I can say with complete certainty is that a black sky full of twinkling stars utterly captivates me and a big orange moon hanging over the sea will stop me in my tracks.
I remember many years ago, in the last December I lived in Cascais picking my daughters up from a friend's house in Alcabideche and catching sight of a huge moon suspended in a big dark sky and thinking 'Stop being so beautiful, Portugal…I have to go….' I really did that….
The Alentejo region Portugal is one of the best places for astronomers with its big skies, wide-open spaces and lack of light pollution, and of course, there are several fabulous dark sky spots in Wales too. So, setting Finding Summer Happiness on the Pembrokeshire coast was perfect – It meant I could introduce a spot of stargazing and a (grumpy) astronomer called Alan into the story who spends his time in the summer house in Miriam's garden researching his books.
So, being a rom com fan, I thought I'd have a browse around to see if there were any romantic films that included a bit of staring at the sky. There are a few with references to it. Of course, George Bailey in one of my favourite's – It's a Wonderful Life, does say whilst wooing his soon-to-be-wife, Mary. 'You want the moon? Just say the word, and I'll throw a lasso around it and pull it down.' Just gorgeous, that is in my opinion.
Of course, there's another one, that I fully admit to loving, and I don't care what you think….Only You, staring Marisa Tomei and Robert Downey Junior, where Hope says.  'I don't believe in anything anymore! I don't believe in the moon or the stars, or the sun…or destiny or magic…or men!' Actually, I think Miriam Ryan, the main character in Finding Summer Happiness could easily say that as that's how she seems to feel at the beginning of the book.
More recently there was La La Land.  I just loved it and thought it was stunning to look at. The scene at the Griffith Observatory where the two main characters seemed to be dancing in the stars is one of my favourites ever. In fact I would like to do that sometime…any ideas on how? And talking about movies that are beautiful to watch there's Steve Martin's version of Roxanne with Darryl Hannah playing – of course – an astronomy student who has arrived in the town to search for a comet over the summer.
Miriam Ryan isn't searching for anything apart from peace and quiet in Finding Summer Happiness. But she does end up with a few starlit nights.
About Finding Summer Happiness
You won't find happiness without breaking a few eggs …Miriam Ryan was the MD of a successful events and catering company, but these days even the thought of chopping an onion sends her stress levels sky rocketing. A retreat to the Welsh village of her childhood holidays seems to offer the escape she's craving – just peace, quiet, no people, a generous supply of ready meals … did she mention no people? Enter a cheery pub landlord, a lovesick letting agent, a grumpy astronomer with a fridge raiding habit – not to mention a surprise supper club that requires the chopping of many onions – and Miriam realises her escape has turned into exactly what she was trying to get away from, but could that be just the thing she needs to allow a little bit of summer happiness into her life?
Finding Summer Happiness is available in e-book, audio and paperback from all major outlets