I love chatting to other authors, and when it's for their debut with Choc Lit, that's very special. So, welcome Joanne Boden, who's first published novel with Choc Lit is Escape to Little Bluewater Bay!
Hello. I would like to thank Chris for inviting me on her blog to celebrate the publication of Escape to Little Bluewater Bay, my debut novel with Choc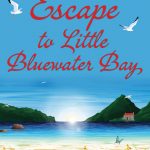 Lit!
Escape to Little Bluewater Bay is a contemporary romance, but of equal importance is the relationship between Willow and her grandmother, Annie. I thought it would be fun to highlight and discuss with you why I wanted to explore the relationship between grandmother and granddaughter in a contemporary romance.
\
The strength of women
Escape to Little Bluewater Bay features many strong and independent women. One of them being Annie Clarkson. She is a  widow, a grandmother and one of the kindest and strongest women Willow has ever known. Willow travels to Little Bluewater Bay to be with Annie after the death of her grandfather, Annie's husband, Albert. She goes to offer her strength and support at this difficult time. She wants to help Annie sort through Albert's belongings and to be a listening ear. But what quickly becomes clear is that Annie is also a tower of strength for Willow at this time. Willow has lost her way a little bit, but with the love and guidance of Annie, she'll soon find her way back.
I very much wanted to highlight the strength that women have, and especially older women. Annie is an amalgamation of my two Nanas, both of whom have sadly passed away. Very often older women are depicted as frail or in need of help. I wanted Annie to smash these stereotypes. I hope I achieved this.
Much needed humour
The story tackles some serious issues, especially those around loss and bereavement, and I needed to find the right balance. I didn't want the book to be dark with no laughter or funny moments. After all this is what makes the world go round. When thinking about how Annie and Willow would nteract, and the foundations for their relationship, I quickly came to realise that they are two incredibly funny women and that they would make each other laugh, whether this was intentional or not. There are some touching and funny moments between these two characters.
Celebrating grandmothers
I wanted to celebrate grandmothers and the important role they play within the family, especially when the mother is absent from family life.. Annie is a sounding board for Willow. She's that safe person who Willow can confide in. Annie offers her advice, but more than anything she is that safe person who Willow can talk to without judgement. They also share lots of hot chocolates and slices of cake while putting the world to rights.
I had so much fun writing the scenes between Annie and Willow. I wanted to show their special bond and the love they have for each other. I hope it shines from the page.
About Escape to Little Bluewater Bay
Start the new year in Little Bluewater Bay …
New year, new Willow Jenkins? All Willow knows is that she needs an escape. So, she takes an extended break from her PR job and retreats to her grandmother's cosy cottage by the sea in Little Bluewater Bay, where a limitless supply of hot chocolate will soothe her broken heart and a limited wi-fi connection will prevent her workaholic tendencies.
Willow is soon made to feel welcome by the friendly locals – although grumpy artist Noah Atkinson doesn't seem to like her very much. Just what is his problem?
But then Willow is asked by her grandmother to approach Noah with a very special commission, only to discover that he hasn't painted people for a long time – and with good reason. Will he make an exception, and in doing so usher in a hopeful and healing new era for them both?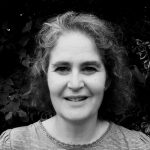 About Joanne Boden
Joanne lives in Lancashire with her husband and their two sons. When she is not busy writing, she likes to take her boys to the local museums, cafes, and walks in the countryside.
Joanne has published 4 non-fiction works aimed at parenting children on the Autistic spectrum, based upon her experiences as a mother of an autistic son. She has also self published a contemporary romance novel, Picking Up the Pieces.
Joanne writes contemporary romances with gorgeous heroes. Escape to Little Bluewater Bay is her debut novel with Choc Lit.
Social media
Facebook https://www.facebook.com/JoBodenAuthor
Twitter https://www.twitter.com/JoBodenAuthor
Amazon link
https://www.amazon.co.uk/Escape-Little-Bluewater-Bay-hopeful-ebook/dp/B09M4337G2/ref=sr_1_1?crid=2W01J8P64498Q&keywords=escape+to+little+bluewater+bay&qid=1641396897&sprefix=escape+to+little+bluewater+bay%2Caps%2C191&sr=8-1