Christmas is not far away, and there's a little bit of festive sparkle in the air, plus it's the time of year when some fabulous Christmas reads are published. 
Kirsty Ferry's new book is called Christmas of New Beginnings and it's a perfect story to get you into the Christmas spirit. She's popped onto my blog to talk about the book, and also how she manages to write so many books!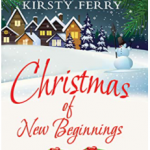 Where did you come up for the idea for this book?
I wanted to do a contemporary chic lit style book, as I'd read loads of them over the summer and of course started to think that I could do the same. They were light and fun, and just what I needed to read. I wrote one for summer 2022, and as I was writing, I started to see how I could make a separate book for a couple of the characters, and as I had nothing written for Christmas 2021, I decided to make the Christmas book 'theirs'. I didn't really have any ideas for it beyond it being Christmassy, so I'm quite pleased I managed to write it really!
It's your first Ruby Fiction book with Choc Lit  – what's the difference between this and your previous books?
This one is written purely from the heroine's point of view, which is different from my Choc Lit ones, as we always have a hero's point of view in those. I've done fun, contemporary books before for Choc Lit, but never one where we saw everything from one person's perspective, so that was quite fun to do and I could allowmyself to get really into the mind of Cerys, the heroine. A lot of my Choc Lit books are dual timeline or timeslip, and I find myself narrating from the point of view of about four characters, so it was nice to keep one 'voice' going and helped me write the story quite quickly I think. Also, there are no ghosts or paranormal activity in this one – and there's often something to do with that in my Choc Lit ones!
You are a prolific writer – where do you get all those ideas from?
I think I look more prolific than I am. Quite a lot of books have been in the system a while, and I actually wrote nothing for a good two years as life got in the way. I find it's best to go with it if I'm in the mood, and as a few of the books are novellas, they don't take a lot of writing. If I'm on a roll, I can do one of those in about a month to six weeks. I find the ideas come quite easily during a series, as I already have characters created and there's generally a theme. I'll find ideas everywhere – places I've visited, or things I've seen in museums or read about. Padcock, for instance, where this new series is set, is based on Lacock village in Wiltshire. If anyone ever sees me out and about and looking furtive, I'm searching for inspiration, so watch out! One horrible character in the summer book, for example, was originally named after a school bully, but I'm going to have to change it during edits as I've since encountered someone nice with that name…
Writing books takes a lot of discipline – you produce them regularly – how do you organise your time to do that?
I'm lucky enough to work part time in my day job, so I try to use some time in my days off to write if I can. If I am reaching a deadline, I can be quite disciplined and start working in earnest at 9pm and put in a good couple of hours before bed. It also helps that my husband often works away and my son is at uni, so I have time to myself. I wrote quite a bit during lockdown as, although I worked from home all the way through, I still had four days a week to fill in as I was completely on my own during both the big ones and, when my son was small, and I had to sit at the baths for an hour, or in a coffee shop waiting for him to finish an activity, I'd take my laptop and just crack on.
Tell us about how you felt when you got your first book published
It was fantastic. To hold my first printed book in my hands was just the best feeling, and to see my words on the pages was as if I was reading something someone else had written! The fact I had a publishing deal from a traditional publisher like Choc Lit also validated it in some way that I was actually good enough to write a book and have people read it.
What are you working on next?
Believe it or not, nothing! I have just submitted my Christmas 2022 book, and am having some downtime. I'll wait a bit until I get some more ideas and some more characters and some more inspiration, then start again. But whether it'll be a new series or a continuation of my Padcock series, I don't really know. Watch this space, I guess, and you'll know when I know 😊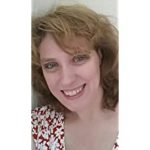 About Kirsty Ferry
Kirsty Ferry is from the North East of England and lives there with her husband and son. She won the English Heritage/Belsay Hall National Creative Writing competition and has had articles and short stories published in various magazines. Her work also appears in several anthologies, incorporating such diverse themes as vampires, crime, angels and more
Kirsty loves writing ghostly mysteries and interweaving fact and fiction. The research is almost as much fun as writing the book itself, and if she can add a wonderful setting and a dollop of history, that's even better.
Her day job involves sharing a building with an eclectic collection of ghosts, which can often prove rather interesting.
About Christmas of New Beginnings
Not all festive wishes come true right away – sometimes it takes five Christmases …
Folk singer Cerys Davies left Wales for the South Downs village of Padcock at Christmas, desperate for a new beginning. And she ends up having plenty of those: opening a new craft shop-tea room, helping set up the village's first festive craft fair, and, of course, falling desperately in love with Lovely Sam, the owner of the local pub. It's just too bad he's firmly in the clutches of Awful Belinda …
Perhaps Cerys has to learn that some new beginnings take a while to … well, begin! But with a bit of patience, some mild espionage, a generous sprinkling of festive magic and a flock of pub-crashing sheep, could her fifth Christmas in Padcock lead to her best new beginning yet?
Buying links: 
Amazon UK: https://www.amazon.co.uk/Christmas-New-Beginnings-warming-uplifting-ebook/dp/B09G38ZTV3/
Apple Books: https://books.apple.com/gb/book/christmas-of-new-beginnings/id1586450033
Kobo: https://www.kobo.com/gb/en/ebook/christmas-of-new-beginnings
Nook: https://www.barnesandnoble.com/w/christmas-of-new-beginnings-kirsty-ferry/1140157522
You can follow Kirsty Ferry on Twitter @kirsty_ferry
and on Facebook https://www.facebook.com/kirsty.ferry.author