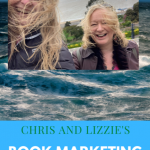 Lizzie Chantree and I during one of our long, industrious meetings (which is what we call  a – breakfast, b – coffee, c breakfast and coffee, d – coffee and cake) discovered that we both love films and we are both rather keen to have our novels adapted for the big screen (although Netflix, Sky or Amazon Prime would be good too). I love a rom-com frankly, and can watch You've Got Mail on a loop. Bridget Jones' Baby is also on fairly frequently, and I have recently revisited my very favourite film, When Harry Met Sally, which was the culmination of my home rom-com week towards the end of lockdown when I binged watched Love Life and Starstruck on the BBC i-player.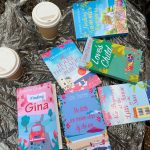 So we  decided to take our books on tour of some movie locations near where we both live in Essex. Unfortunately, once again, the weather was against us (never organise a picnic on a day Lizzie and I decide to have one of our adventures as our track record for sunshine is pretty poor so far), so we limited ourselves to Chelmsford and Maldon, which do have movie links, actually.
Our first stop was at Hylands House, which was the location for the 2004 film, Chasing Liberty. That was filmed on location in..Prague, Venice, Berlin, London, Washington D.C. and Chelmsford.. …..Also, it doubled up as the White House in an episode of The Crown which I also binged watched in the early months of 2021.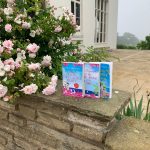 For Lizzie it is a prime setting for one of her books Finding Gina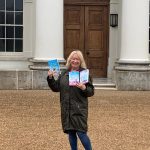 For me, I decided that as the V Festival used to be held there, and so was on tv, that counted as a location, so if the film crew that was making my latest novel, Finding Summer Happiness couldn't get to Pembrokeshire, they could film the look-a-like-festival scenes from the book in that very park.
My first two novels, The House that Alice Built and New Beginnings at the Little House in the Sun are both set in Cascais on the Lisbon coast in Portugal. Obviously I would accompany the film crew over there to help guide them along. There is a park both, however, that Alice sometimes retreats to and we discovered just the place to film those scenes at should the budget not run to Parque Marechal Carmona.
Here's a behind-the-scenes look at one us recording a trailer….
We then headed to Maldon which is where some scenes for the film adaptation of Sarah Perry's book, The Essex Serpent have recently been filmed. Sadly, we were a few weeks too late to spot the film's stars Cl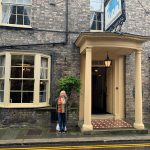 are Danes and Tom Hiddleston. But we did take some pictures by the waterside and also outside the iconic Blue Boar hotel.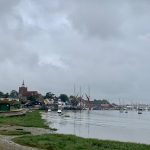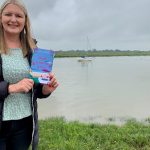 Book shops have been prime settings for important scenes in romantic comedies, such as those I have already mentioned – You've Got Mail and When Harry Met Sally. Plu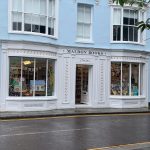 s of course there's Notting Hill…and I'll stop there or I'll just do a list. So, we took ourselves and our books to the gorgeous Maldon Bookshop at the top of the High Street, and had a browse around for a little while.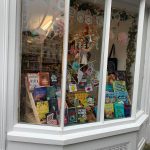 And of course, there's coffee shops. There's almost always a coffee shop scene in a romantic comedy, and they also play a part in both mine and Lizzie's books, and we can often be found writing our own books in the ones we love all over the county, country and beyond.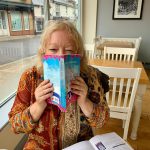 (That's me smelling my brand new paperback in a coffee shop…sorry..not sorry…)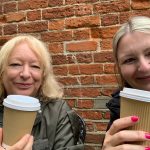 Personally, I'm putting it out there – can someone make some films of our books please? Thank you….
You can find out more about my e-books, paperbacks and audio books by visiting
https://www.chrispenhall.co.uk/
Check out Lizzie's post about our latest adventure  and find out more about her books here https://lizziechantree.com/2021/07/05/chris-and-lizzies-books-on-tour/