The House That Alice Built is set in Cascais in Portugal, and its pretty streets, gorgeous beaches and beautiful setting inspired me to write the novel. Alice herself rediscovers her creative side when she's there, and finds what she sees and feels enables her to begin to paint, draw and photograph again. So, I thought I'd ask an artist about how she is inspired by what she sees, and this is her blog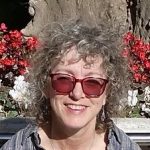 Audrey Bowling is an abstract, mixed-media artist working with an emphasis on collage and you can see more on her work via www.audreybowlingart.co.uk
As an avid traveller, I photograph a lot of landscapes. When time allows I will also sketch them. Most of all I stare at them, taking in the shapes, shadows, colours, movement and atmosphere.
I agree with Anthony Gormley when he says "art is not about making accurate descriptions of things that actually exist. It can be about allowing things to arise". Although sometimes I have a specific place in mind and may even paint a realistic landscape, such as 'Laxamýri, Iceland' .
Laxamýri, Iceland by Audrey Bowling
More often when creating I take my materials and allow something to evolve. As I'm working I may recognise a shape or find I'm working with particular colours and only afterwards do I realise that it came from a view of a particular place, a memory of a holiday experience or a photograph I've seen.
'Shropshire Undulations' is an example of this.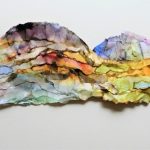 Shropshire Undulations by Audrey Bowling
As I was working with the paper and inks, something about the shape and colours reminded me of a recent trip and wandering through those hills in the autumn.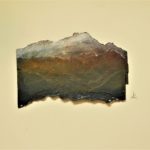 'Winter's First Breath' is from the many hills I've seen with the early snowfall just brushing the tops of those mountains and the dark, late autumnal slopes below.
A trip through the American deserts of New Mexico, Arizona and Utah were brought to mind when I saw the colours of the papers involved in these two artworks, 'Midwestern Memories' and 'Midwestern Dreaming'. The shapes of the desert cliffs and colours of the rocks were perfectly summed up, especially when placed against a clear blue sky.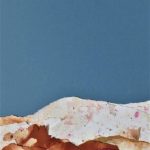 midwestern memories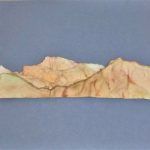 midwestern dreaming
The landscape can also influence me in other ways, seeing the reflections and buildings within it and things I find discarded to become part of it.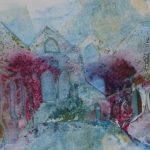 A mixed-media monoprint of Tintern Abbey somehow evoked the slightly unearthly atmosphere of the place.
Spirit of Tintern 1 by Audrey Bowling
Another piece 'Gearing Up' has slight leanings towards landscape and was definitely inspired by my love of hills and countryside. This also incorporates a cog, one of many objects found on my travels and makes me feel that our landscape is also shaped by our use of it.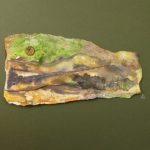 Gearing Up by Audrey Bowling
I have long felt that an artwork is not necessarily about what the artist is trying to say, but what the viewer takes from it and this is where I feel abstract art is more effective than the realistic, which although beautiful in its own right, leaves less for the observer to discover.
Looking forward, I hope that my artwork will continue to evolve. Whilst maintaining my love of landscape. I will try to abstract that landscape further, incorporating texture and found objects to give depth and feeling, as well as providing a point of contemplation. These next are a sample of my next series of artworks.
Stormy Skies, Light Reflections and Harbour Reflections