Fellow Ruby Fiction author, Claire Sheldon has written the third in her series in The Lisa Carter Files, A Burning Lie.  Set in her home town of Nottingham, it follows Jen Garner  and her return to street level policing.
Q – tell us about the book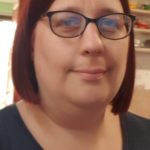 A Burning Lie is set once again in Nottingham, Where a packed music venue is attacked during a concert leaving many injured and dead.  
The whole team are back again to investigate Jen Garner has decided to give street level policing a go, after realising she can't really go back into the fast paced environment she keeps being dragged back into. DI Chris Jackson is battling with his health and a possible life changing diagnosis. And as Chris says at one point 'Hannah probably has her feet up on the desk doing her nails.' 
Q – it's the third in a series – how are they connected? 
The series is called "The Lisa Carter Files" which is Jen's alter ego from back in the day of her undercover work. They are all set for the most part in Nottingham and feature the Nottingham special ops unit along with character's from Jen's past. Perfect Lie and A Silent Child both have main stories that mean Jen gets dragged back into her old life as an undercover detective whereas in A Burning Lie she decides to give street level policing ago.   
Q – Tell us about Jen Garner 
Jen moved to Nottingham about 10 – 13 years ago after she met her husband while she was out in a nightclub with her then best friend Chloe Seaward. She and James married and have two children Melanie and Alex. She'd been hiding her past from James and those around her playing the perfect wife and parent until the past came knocking on her door and she had to make the decision to go back to her past and solve the murder of her best friend. Since then she has decided that she misses the buzz of policing so is deciding to give street level policing a go in Nottingham with DI Chris Jackson's team where she is at the beginning of A Burning Lie.   
Q – how do you write – do you plan the book in advance or do you just start writing and see what happens? 
I think my editor wishes I'd plot, but I pretty much make them up as I go along and then rush around trying to find glue and sticky tape to make them work. I think I do kinda plot but not to the extreme of some people, I just come up with ideas and just go with it and see where I end up. 
Q – Where do the ideas come from? 
I was brought up watching The Bill for starters, then later on followed Spooks and other high octane police drama's and a lot of day dreaming… In my head I wish I was Jen, though my son and daughter are called Alex and Melanie.  
But since finishing Burning Lie I have started several none starters trying to find the right story I want to tell….  
Q how does writing make you feel? 
At the most part I enjoy it, but I think I get fed up of it far to easily! I also get major imposter syndrome and then start thinking this is sh!t and it all goes downhill from there.  Sometimes I compare it to Parkrun on a Saturday where I think it's a good idea at the time, start running and get to WTF am I doing and then it's getting myself over the line. Though like my hubby tells me you must enjoy it or why would you still be doing it!? Think that goes for Parkrun too…  
Q do you have any tips for aspiring writers who haven't plucked up the confidence to put pen to paper yet? 
I'd tell them to go for it, what's the worst that can happen? You don't need to make a facebook announcement or anything just write for yourself and who knows where it might lead. We all started somewhere and unless you do start then who know what might happen  
Q what are you working on next? 
Hopefully what will be book 4 in the Lisa Carter files, I don't want to give too much away as I've had so many false starts but its happening currently….  
 Find out more about Claire via 
https://twitter.com/ClaireEESheldon  
https://www.facebook.com/clairesheldonauthor  
https://csheldonblog.wordpress.com/ 
 About Claire Sheldon
Claire lives in Nottingham with her family, a cat called Whiskers and a dog called Podrick. 
She suffers from Multiple Sclerosis and as a result of the disease had to reduce her hours working in insurance for an Insolvency Insurer. This spare time enabled her to study a creative writing course which inspired her to write her debut, Perfect Lie and later A Silent Child. 
When Claire isn't working she enjoys reading crime novels and listening to music – the band Jimmy Eat World is her biggest muse! Claire is also an avid reader and book blogger. The inspiration for her novels comes from the hours spent watching The Bill with her grandparents and auntie; then later, Spooks and other detective programmes like Inspector Morse, A Touch of Frost and Midsomer Murders.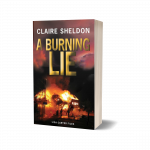 A Burning Lie
When a deadly explosion brings secrets and lies to light …
A city shaken to its foundations by a fire in a well-known music venue. A nightclub owner seemingly more concerned about money than the lives of the young people who fill the dancefloor at the end of every week. A dangerous bomber still on the loose.
All things that Detective Jen Garner must face in her first week of local level policing whilst trying to start afresh and finally make a break with her past.
Working alongside DI Chris Jackson, it's crucial that Jen connects the dots to bring the culprit to justice. But it seems that everywhere Jen turns there is somebody with something to hide – and whilst she and her team attempt to unravel a web of lies years in the making, could the bomber be getting ready to strike again?